A World Economic Forum report confirms that 2022 saw an all-time high global inflation of 8.8% – up from 4.7% in 2021. However, the report forecasts an inflation drop to 6.5% in 2023 and 4.1% by 2024. On the other hand, FAO's food price index hit 143.7% in 2022, up from 14.3% in 2021, the highest since the records began in 1990. These stats support Attest's survey, which indicates that 90% of shoppers are bargain-hunting grocery shopping. Further, more than 40% search for the best deals in multiple stores.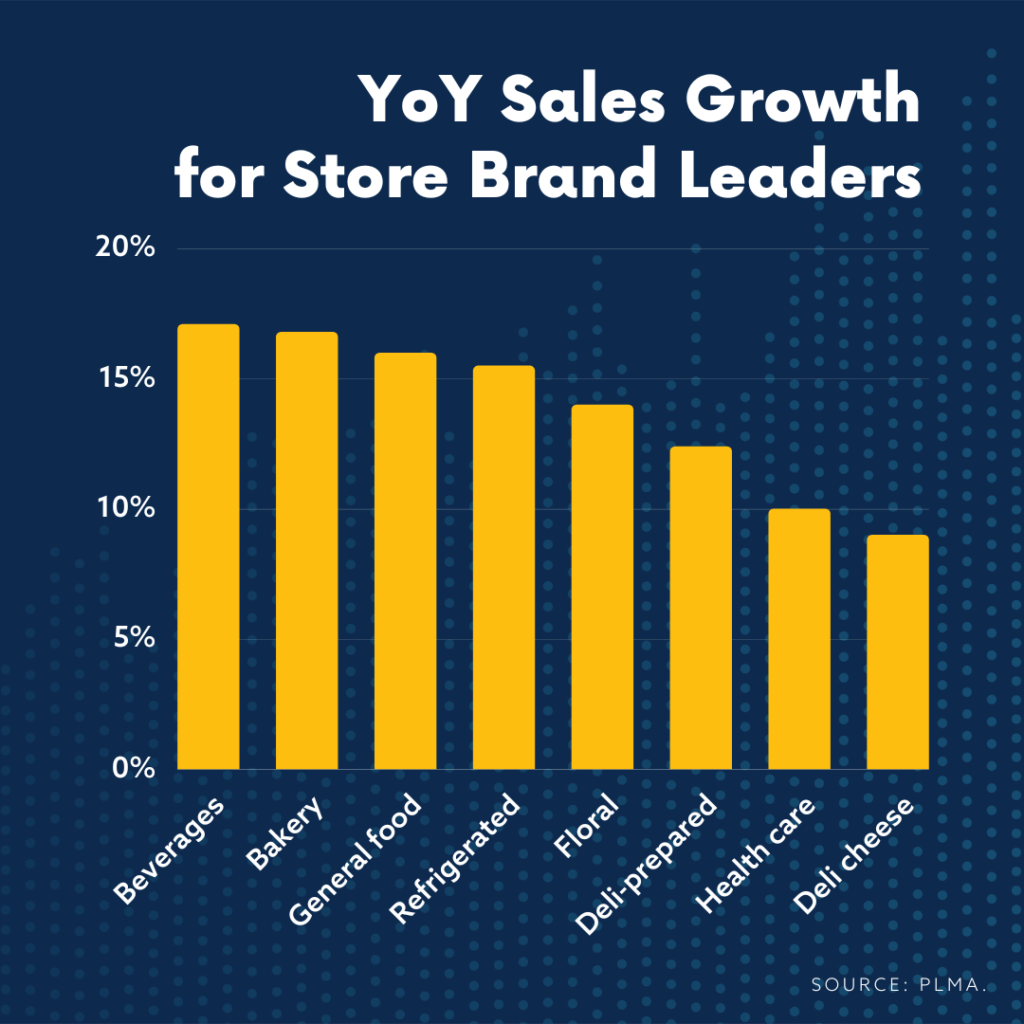 So it's no surprise that private label brands still dominate despite the persistent global inflation and soaring commodity prices. The same Attest survey confirms that 73% of customers prefer store brands, and only 9% prefer otherwise.
Why do private label products dominate?
From Target's Up&Up and Good & Gather brands to Costco's well-known Kirkland Signature label, store brands have become ubiquitous, offering products that rival national brands in quality and value. Yet, despite the heightened inflation, their dominance stems from a host of reasons.
Personalization. A McKinsey study established that 71% of customers expect brands to offer personalized interactions. Customers want brands to understand their needs and preferences and deliver exactly that. On the other hand, Dynata research points out that 80% of customers are more likely to buy from retailers offering personalized engagements. Retailers handling private label products can create customized experiences matching customer needs and preferences. This customization helps retailers boost customer loyalty and sales. For instance, custom packaging with the retailer's branding or messaging creates a unique and memorable customer shopping experience. Lastly, increased control over developing and distributing their private label products ensures that retailers can respond quickly to changing market trends and consumer tastes.
Consumer cost savings. Private label brands are typically more affordable than national brands, making them an attractive option for increasingly budget-conscious consumers. Retailers have direct control over the production and sourcing of their private label products, resulting in cost savings. By eliminating the middleman, and branding and marketing expenses, they pass on the cost savings to consumers. Additionally, private label products are often made by the same manufacturers and with similar ingredients as national brands. And since they're subject to the same quality standards, consumers enjoy high-quality products at lower costs. The wide range of products also allows consumers to find affordable alternatives to national brands and provide retailers with a reliable revenue source.
Flexibility in product development. Private label brands can respond to changing consumer trends and preferences effortlessly and promptly. This flexibility in product development allows the brands to offer unique and innovative deliverables. In addition, the increased control over product quality and ingredients allows for greater customization and specialization to cater to specific consumer preferences and niche markets. They can customize everything from the ingredients and packaging to the product design and branding. Furthermore, retailers can offer private label products at different price points, ranging from budget-friendly to premium products. As a result, they can target different market segments and provide products that appeal to customers with varied budgets.
Brand differentiation. Nothing makes a product or service stand out in a crowded market as brand differentiation, more so since more than 80% of customers must trust a brand before engaging with it. As a result, retailers can develop unique and innovative products, targeted marketing campaigns, and branding strategies to differentiate them from national brands. Pricing strategies are another compelling brand differentiator. Private label brands don't have the same marketing and advertising expenses as national brands. That's how they often offer affordable products, appealing to budget-conscious consumers. Furthermore, private label brands can partner with retailers. Such partnerships create a sense of exclusivity and loyalty among customers who value the retailer's unique products and shopping experience. Finally, private label brands can also stand out through customer service and support. They can work closely with retailers to provide personalized and responsive customer service.
Reduced competition. Private label brands are typically exclusive to the retailer that carries them. This exclusivity means they don't compete with other retailers with the same national brand products. As a result, private label brands capture a larger market share and increased sales and revenue, thanks to the reduced number of competitors in the market. Furthermore, retailers enjoy brand differentiation from other retailers. This competitive advantage helps retailers with brand recognition and loyalty and attracts customers looking for unique and exclusive products. The reduced competition also means more control over pricing strategies. National brands typically have strict pricing policies that retailers must follow. Private label brands, on the other hand, enjoy flexible pricing strategies, allowing retailers to offer competitive pricing and promotions to attract more customers.
Increased profitability for retailers. Private label brands offer higher profit margins for retailers. According to CB Insights, retailers partnering with private-label brands experience up to 35% profits, compared to 26% for national brands. Retailers have greater control over pricing and promotion strategies with their private label brands, allowing them to maximize profitability. They can optimize their pricing strategies and adjust prices to meet market demand, boosting profit margins. Private label brands are also effective in building brand reputation and increasing customer loyalty. The high-quality and affordable private label product changes the customers' perception of a retailer. This helps create a positive image, boosting customer loyalty and repeat business and increasing profitability and long-term success.
Future growth potential. According to the Private Label Manufacturers Association's "2023 Private Label Report," store brands made a record $228.6 billion in sales across all U.S. retail channels in 2022, which was $23.2 billion more than the year before. In fact, Cincinnati-based Kroger owes its overall solid performance in Q2 2023 to a 10.2% increase in private label brand sales. And this is just the beginning. The future for private label brands is bright. Technavio forecasts that the global private label food and beverages market will grow by $281.15 billion between 2022–2027, with a compounded annual growth rate (CAGR) of 6.39% during 2022 – 2027. Similarly, ReportLinker projects a $281.15 billion growth in the global private label food and beverage market from 2023-2027, with a CAGR of 6% during the same period.
Need expert help with private-label branding?
Private label brands are here to stay. Consumer preferences continue to shift toward more affordable and high-quality products, offering a great investment opportunity for retailers and affordable, high-quality products.
TraceGains helps retailers fully realize the benefits of private label brands. Request a demo to learn more. We provide retailers with tools to manage their private label brands effectively and build stronger relationships with suppliers and customers.