2020 shook the supply chain to its core. And while there are signs of recovery, with production ramping back up and consumers returning to brick-and-mortar retail outlets, aftershocks still threaten the global supply chain. From suppliers to manufacturers to retailers, no one has emerged unscathed.
Consumers click on ecommerce
In a matter of months, ecommerce moved from a retail luxury to a retail life raft, saving more than a few brands from extinction. As locked down consumers had little choice but to order food and beverages online, ecommerce soared in 2020. Brands that adapted quickly and shifted their focus online flourished. Online food and beverage sales — including grocery and restaurant delivery — grew 125% to $106 billion in 2020, according to NielsenIQ data.
"This firmly planted CPG food and beverage as the No. 1 online CPG department as of 2020, overtaking health and beauty," Elizabeth Buchanan, Head of Consumer Intelligence for North America at NielsenIQ, explained. "Food and beverage, as we know, had been slower to gain traction online, but the unique circumstances in 2020 left many [consumers] without other viable options. The desire to avoid crowds or queues at checkout, restrictions on store hours — vary significantly, an abrupt change in people's daily patterns meant that ecommerce for grocery went from sort of niche to necessary."
Aftershocks persist
While vaccines briefly helped restore a semblance of pre-pandemic times, the advent of the Delta variant threatened a full recovery and sent aftershocks throughout the supply chain. Rising commodity prices haven't helped, as they've pushed retail prices higher. As a result, some retailers fear rising inflation even more than COVID right now.
Finally, shipping costs remain steep as ocean freight picks up the slack of reduced air freight capacity. Some experts don't expect a reprieve from shortages or long lead times anytime soon.
According to the U.S. National Retail Federation, 97% of retailers said port and shipping delays have hurt their business, while 70% have tacked on at least two to three weeks to their supply chain.
Scarcity drives supplier diversity
Increasingly frustrated by sluggish supply chain partners, retail heavyweights such as Kroger Co. and Walmart have led the way in reaching out to new, diverse suppliers.
Kroger recently announced the launch of Go Fresh & Local Supplier Accelerator, a partnership program designed to recruit American growers and producers to apply for the chance to work with the grocery giant. Kroger established the program, sponsored by Gourmet Foods International, to uncover new suppliers to support the continued expansion of its fresh departments, including produce, deli, bakery, meat, seafood, dairy, specialty cheeses, and floral.
"We're dedicated to fostering innovation and investing in local, regional, and small businesses that make the best of food accessible to all," Dan De La Rosa, Kroger's Group Vice President of Fresh Merchandising, said in a press release. "Our first Go Fresh & Local Supplier Accelerator is an extension of our commitment, and we're eager to invite suppliers of every size to participate, providing the potential to grow our businesses together."
The move isn't Kroger's first in pursuing a more diverse supplier base.
"In 2020 alone, we invested $4.1 billion in diverse suppliers — a 21% increase versus the previous year — and we're working with intention to scale that number to $10 billion by 2030," Stuart Aitken, Kroger's Chief Merchant and Marketing Officer, added.
Part of this increased effort focuses on working with more local suppliers, as illustrated by Walmart's call for additional items sourced domestically. Over the next decade, the world's largest retailer plans to spend an additional $350 billion on things made, grown, or assembled in the United States.
TraceGains highlights diverse suppliers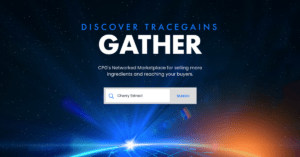 TraceGains has heard from manufacturers and retailers who struggle to find suppliers based on specific criteria, whether it's a minority-owned small business or a supplier in the same state. We're here to help.
TraceGains offers the world's only Networked Ingredient Marketplace, an ecosystem where manufacturers, suppliers, and other supply chain stakeholders work together with the data they need at their fingertips, and a way to share it quickly.
And now, our standard online forms includes a section in our Supplier Questionnaire to support growing supplier diversity efforts, concentrated on whether a company is Minority-Owned or Woman-Owned, along with a text box for suppliers to add more information. This added functionality makes it easier for manufacturers and retailers to find more diverse supplier options that fit their desired specifications.
The new feature also instantly connects suppliers with their supply chain collaborators by building a complimentary online profile. Become immediately searchable on the industry's largest network of CPG companies and be discovered by over 40% of the top 100 food and beverage companies that run TraceGains.