President Biden has finally unveiled his administration's plan to leverage biotech to bolster the nation's sustainability and food security efforts.
The White House Office of Science and Technology Policy's report, "Bold Goals for U.S. Biotechnology and Biomanufacturing," arrives six months after Biden signed Executive Order 14081, which outlined an organized federal approach to biotech. Details were scarce at the time, but now it appears that food has emerged as a priority.
The new report fleshes out the administration's plans by using biotech to power more proficient agriculture, boosting food system sustainability, improving food nutrition, and insulating the system against threats such as climate change.
"Biotechnology and biomanufacturing are providing transformative solutions to many of the greatest challenges facing U.S. agriculture and food production, including climate change, food and nutrition insecurity, and pests and diseases in agricultural plants and animals," the report explained.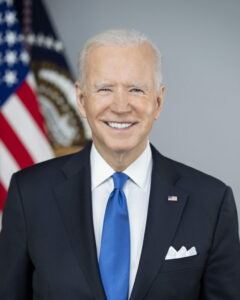 Understandably, the administration's focus remains on research and development. It also spells out 10 specific goals that span four themes where the White House insists the biotech sector can make a difference.
Theme 1: Transportation and stationary fuels.
The strategy document points to the nation's need to cultivate "more carbon-neutral transportation and stationary fuels by expanding renewable feedstock availability and producing more sustainable aviation and other strategic fuels." It argues that these new fuels will help move the country beyond legacy fossil fuel sources in favor of "renewable liquid fuels, which will likely still be required by a subset of transportation and other applications difficult to electrify."
Goal 1.1: Expand feedstock availability. In 20 years, the plan is to collect and process 1.2 billion metric tons of conversion-ready, purpose-grown plants and waste-derived feedstocks and develop more than 60 million metric tons of exhaust gas CO2 suitable for conversion to fuels and products while minimizing emissions, water use, habitat conversion, and other sustainability challenges.
Goal 1.2: Produce sustainable aviation fuel (SAF). In seven years, produce three billion gallons of SAF with at least a 50% (with a stretch goal of 70%) reduction in greenhouse gas lifecycle emissions relative to conventional aviation fuels. This includes a goal of increased production, up to 35 billion gallons, by 2050.
Goal 1.3: Develop other strategic fuels. Within two decades, develop technologies to replace 50% (or more than 15 billion gallons) of maritime fuel, off-road vehicle fuel, and rail fuel with low net greenhouse gas emission fuels.
Theme 2: Chemicals and materials.
The second theme "seeks alternative processes to produce chemicals and materials from renewable biomass and intermediate feedstocks by developing low-carbon-intensity product pathways and promoting a circular economy for materials." The report's authors insist that realizing these goals will establish the nation at the vanguard of a "vibrant global bioeconomy while producing net-zero or net-negative emissions, reducing the use of and reliance on fossil fuels, and increasing use of recyclable-by-design chemicals and materials like bio-based products."
Goal 2.1: Develop low-carbon-intensity chemicals and materials. In five years, produce more than 20 commercially viable bioproducts with more than 70% reduced lifecycle greenhouse gas emissions over existing production practices.
Goal 2.2: Spur a circular economy for materials. In 20 years, demonstrate and deploy cost-effective and sustainable routes to convert bio-based feedstocks into recyclable-by-design polymers that can displace more than 90% of today's plastics and other commercial polymers at scale.
Theme 3: Climate-focused agricultural systems and plants.
Third, the administration wants to develop "climate-focused agricultural systems and plants and includes bold goals to develop restorative and resilient feedstock production systems, engineer better plants tailored as bioeconomy feedstocks, improve the usage of feedstocks, and engineer more efficient protein production systems." The group argues that these efforts will produce "a variety of biomass feedstocks with increased resilience, yield, and nutrient use efficiency."
Goal 3.1: Develop measurement tools for robust feedstock production systems. In five years, develop new tools for measuring carbon and nutrient fluxes in agricultural and bioeconomy feedstock systems that contribute to a national framework.
Goal 3.2: Engineer better feedstock plants. In five years, engineer plants and manipulate plant microbiomes to produce drought-tolerant feedstocks capable of growing on underutilized land with less than 20% improvement in nitrogen and phosphorus use efficiency.
Goal 3.3: Engineer circular food protein production systems. In five years, demonstrate viable pathways to produce protein for food consumption, including from biomass, waste, and CO2, which achieve less than 50% lifecycle greenhouse gas emissions reduction and cost parity relative to existing production methods.
Theme 4: Carbon dioxide removal.
Finally, the report tackles carbon dioxide (CO2) removal. The group's proposed goals include "expanding landscape-scale biotechnology solutions to store carbon within soils and enable biomass to remove and store carbon." Consequently, implementation would "dramatically increase CO2 removal from the atmosphere across whole ecosystems through landscape-scale carbon sequestration and management techniques."
Goal 4.1: Develop landscape-scale biotechnology solutions. In 10 years, the report articulates a desire to roll out "technologies to expand implementation of landscape-scale soil carbon sequestration and management techniques on tens of millions of acres, increasing soil health and drought resilience and supporting U.S. climate targets."
Goal 4.2: Enable biomass with carbon removal and storage (BiCRS). In less than a decade, demonstrate durable, scalable biomass CO2 removal for less than 100/net metric ton on a path to enabling gigaton-scale removal.
Playing catch-up with the private sector
While the Biden administration's sustainability goals appear ambitious, you could argue that the feds are still playing catch-up.
In March, PepsiCo. announced a commitment to invest $216 million in regenerative agriculture. The company spelled out a goal of cutting three million metric tons of emissions by 2030.
ADM announced the launch of Knwble Grwn, a direct-to-consumer ingredient brand the ag giant established to provide "consumers wholesome, plant-based food ingredients that are sustainably sourced."
Nestlé's been leading the way with its sustainability efforts for years. The latest example? The company announced that it increased its use of renewable electricity last year. And it's on track to achieve 100% renewable electricity by 2025. It's also worth noting that it's the first company to share details about the nutritional value of its complete global portfolio.
Configurable solutions accelerate R&D
Chasing sustainability in the food and beverage business starts in the research and development division. Brands that invest in R&D can secure a competitive advantage in the marketplace, insulate themselves from an increasingly volatile economy, and earn the loyalty of an entire generation of consumers.
And an easy place to start is by making it easier for your R&D teams to work together. And a single document management platform, where you can store all your data digitally, can offer just that.
With TraceGains Networked Product Development suite, you can:
Draft digital specs everyone can see, making collaboration seamless, whether it's between departments or with your suppliers.
Breathe new life into product ideation and reformulation with digital recipes linked to your library of ingredient data. With features such as version management and automated workflows, your teams can save time and money.
Pin global alerts to your ingredients, which speeds up sourcing without cutting corners. You can also keep an eye on your suppliers – and their ingredients – while promoting cross-team cooperation through shared workspaces.
Find out how TraceGains can transform the way you do business.