Co-Manufacturers Ride Private Label Sales Wave
Food, beverage, and dietary supplement companies flirted with co-manufacturers and co-packers for years but fully embraced them as supply chain partners in the aftermath of a historic global supply chain collapse. Outsourcing core manufacturing – and packaging – tasks allows brands to circumvent labor shortages, accelerate new product development, and get products onto store shelves much more quickly.
Choose your own co-manufacturer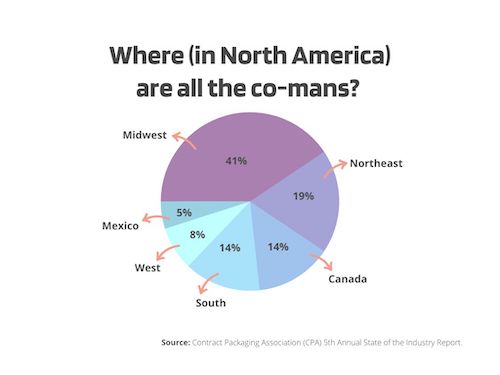 As with most things, there's no one-size-fits-all contract manufacturer. That being said, most co-manufacturers are based in North America, and nearly half of them are single-facility operations. But who you work with depends on what you need.
Private-label manufacturers: These manufacturing partners assume responsibility for the entire manufacturing process based on the design, pricing, and technical requirements you provide. Think Costco's Kirkland products, maybe one of the most successful private label brands in the United States. Or Aldi's various brands, such as liveGfree, Simply Nature, etc., that account for almost 90% of all available items in stores.
Component-specific manufacturers: These operators typically produce one or more of the components of the finished good. The parent company then oversees the final production and/or assembly. The use of these manufacturers is much more common in more technical industries, such as the automotive or electronics space.
Subcontractors: Even the most capable general contractors sometimes need to outsource some functions to another contractor for other, smaller component production. Think of these partners as co-mans of the co-mans. This typically happens when a labor shortage forces a co-man to turn to another vendor for more labor-intensive projects.
End-to-end contractors: Not unlike private label contractors, these co-mans function more as consultants for design and other related operations for finished good production. This is an excellent solution for companies not as experienced with mass production but require a quick turnaround.
Rising private label tide lifts co-manufacturers
Private label brands, which hit $199 billion in U.S. sales in 2021, remains a massive driver of co-man growth. And the pandemic pushed private labels higher when customers couldn't find their brand-name favorites. Inflation pushed private label sales even higher even as the supply chain made up some of that ground. It also helped get store shelves restocked in the process.
Nearly 80% of U.S. adults admitted to either buying – or being willing to buy – private label apparel, pantry, personal care, and other goods, based on Bizrate Insights' January 2022 survey. And a plurality of consumers (41%) say price is the most significant factor.
According to analysis from Catalina, a shopper intelligence firm, the categories that enjoyed the most significant gains so far in 2022 include:
Baking mixes – up 40%.
Soup – up 17%.
Prepared foods – up 12%.
Dried vegetables – up 11%.
Canned fish – up 10%.
Cereal and baby food – both up 6%.
Deodorant – up 4%.
"The data clearly indicates that shoppers have become more price-sensitive and value-driven in recent months," Catalina Chief Data and Analytics Officer Sean Murphy said in a press release. "Our platform powers these sorts of insights, helping us advise our retailer and CPG customers on the most effective shopper audiences, marketing messages, and offers to measurably impact sales."
The country's largest private label manufacturer, Treehouse Foods, illustrates the trend. This industry leader and TraceGains customer reported nearly 8% growth in the first quarter of 2022.
"The private label proposition is becoming increasingly important to our customers, and their consumers as they manage a higher cost macro environment and seek better value," Treehouse President and CEO Steve Oakland explained during the company's latest earnings call in May. "This has translated into private label consumption growth and unit share gains in measured channels, and in the first quarter, we outpaced the broader private label market in eight of our ten largest categories."
Supplements share in the success
According to the results, "a lack of resources/expertise continues to be the most-cited factor in deciding to outsource manufacturing (36%), followed by the ability to focus on other business priorities (24%), and cost savings (22%). Supply chain stability ranked next at 12%."
When screening co-manufacturers, nearly a third of dietary supplement brands say quality certification is the leading consideration. Other critical factors include:
Industry reputation – 20%.
Turnkey services – 17%.
Price – 12%.
Facility inspection – 10%.
Reliability of raw materials – 7%.
Location – 1%.
"Outsourcing has given us the opportunity to focus our resources to other business activities," one respondent said. "We skipped the following activities, which are highly capital intensive: the need to commission a new (manufacturing) facility and equipment; to hire specialists (R&D, production), and factory workers."