Overall inflation might have slowed down, but high food prices remain a nagging concern for consumers, having risen by more than 10% in the year leading up to August 2022, according to the Bureau of Labor Statistics. Eggs have had the highest year-over-year inflation at 39.8%, followed by butter at 24.6%. Fruits and vegetables saw the lowest inflation, which was still relatively high at 9.4%.
As a result, you could argue it's too expensive for the average consumer to get adequate nutrition.
One of the causes of skyrocketing food prices is supply chain disruptions still echoing from the pandemic — from high labor turnover to higher transport costs and a growing need for food preservation because of falling sales.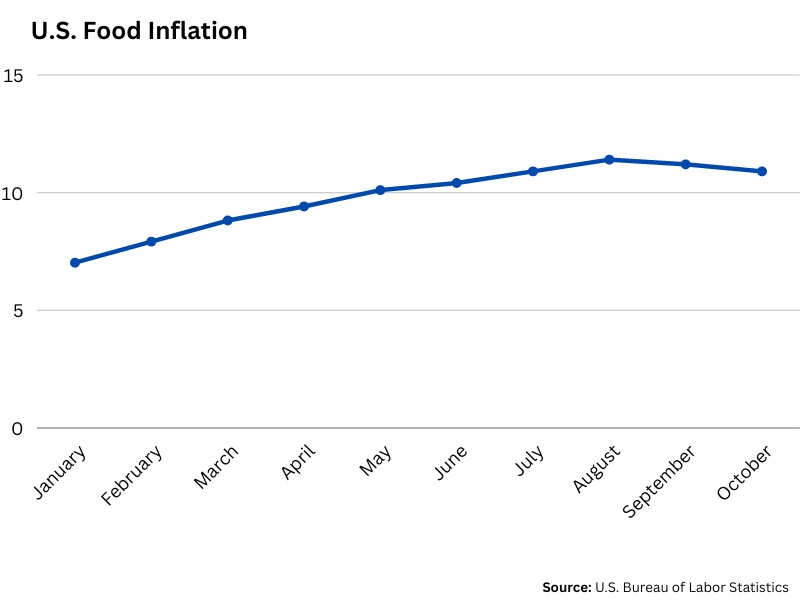 In addition, the Russian invasion of Ukraine also hit food prices hard, with McKinsey & Co. estimating a 30-million-ton grain harvest shortfall in Ukraine between 2022 and 2023, which will cripple global supplies.
The inflation fix
No one knows when food prices will subside as the gap between supply and demand stretches further apart. But, as a company, you aren't entirely helpless when coping with inflation and generating better pricing for your consumers.
One effective way to cope with inflation is improving your supply chain efficiency by creating better relationships with the enterprise superheroes — suppliers, retailers, employees, and customers. Supply chains suffer the most when inflation bites. So, building more resilient supply chains through better relationships can help you stay afloat as prices climb.
Engage employees for better productivity
Employees remain the most critical link in your supply chain. They're involved in the production of your finished goods. And the battle for the best talent continues to heat up as turnover persists, with many workers moving on to better jobs or out of the workforce altogether. Employees now have the upper hand in deciding whether to stick with your company, while many brands struggle to attract and retain talent.
Nurturing employee relationships to ensure high job satisfaction is now an integral first step in better supply chain management. Hiring the best employees will bring in superior market knowledge and business practices, ultimately holding the line on rising costs, which you can pass on to your customers.
Find a way to offer what employees value most about a job, whether it's positive leadership or job flexibility. For example, a caring and inspiring leader is more appealing than an attractive salary in a company with poor leadership, according to a McKinsey survey.
In addition, good leaders build company cultures that embrace respect and inclusivity and create a better work environment.
Put employees in the most impactful roles
In addition to hiring the right talent, you need to maximize employee impact by assigning them the most critical duties that affect your company's profitability while outsourcing non-core responsibilities. You can optimize your budget by maximizing the activities or products that generate the highest return on investment (ROI) and slowing down on the underperforming ones.
Fight inflation with better relationships
According to another McKinsey study, companies that worked well with suppliers reported higher growth and profitability, and lower operating costs. These benefits came from supplier production efficiency driven by integrated planning and transportation efficiency, ensuring more stable operations with less frequent schedule changes and reduced emergency deliveries. Various sourcing and contracting techniques that can help you create better supplier relationships, and collaborations include:
Work with suppliers who prove good financial health and diversify your supplier base. Poor supplier selection can lead to supply chain disruption, which delays product flow. Suppliers unable to meet demand during certain times can cost you a lot in terms of lost revenue, breached contract penalties, and even reduced cashflow as you try to support suppliers struggling to get on their feet. You can determine a supplier's financial health by checking their paperwork, including cash flow statements, return on equity, and balance sheets. You should also continuously evaluate existing suppliers to get an early warning and move toward greater supply chain stability.
Improve supply chain visibility. A healthier supplier relationship helps drive supply chain improvement. And technology can help with that by improving data sharing across supply chain networks. For example, forecasts on demand and delivery schedules can cushion you against inflation and shortages. Building trust and transparency with your suppliers also makes it easier to share sensitive data, allowing you to integrate external data into your system for quicker and better-informed decision-making.
Build joint business plans with your suppliers and retailers to ensure long-term relationships.
Focus on the cost-conscious consumer
Inflation results in less spending power as the cost of living increases. Passing on inflation costs to consumers will ruin your consumer relationships and cause them to switch brands.
Consumers increasingly want to buy from brands that provide affordable goods. Running relevant promotions will help attract this growing consumer segment. Some promotional tactics for cost-conscious consumers include focusing on personalization through data to help shoppers justify each purchase and offer discounts to loyal customers. And more customers are browsing online for better prices before buying in-store, so you can work on your online ordering reviews.
Reducing waste through smaller, more compact, and cheaper packaging options can also help you sell more.
Master your supply chain with unmatched network collaboration
With advanced networking technologies and intelligence, you can enjoy access to a wide range of suppliers and ingredients and share timely, relevant data, making it easy to make important supply chain decisions.
TraceGains is the go-to solution when you want to invest in the most vital suppliers and build new partnerships for supplier diversity while providing relevant and valuable information to avoid supply chain disruptions. Request a demo today to understand how TraceGains is revolutionizing supply chains.