Food and beverage consumers are changing, and so are their attitudes about food. And the aftershocks of the pandemic have fundamentally altered how we interact with brands and their products. As a result, the CPG industry must adapt to meet the needs of these changed consumers. Fortunately, it's not just a matter of reformulation. There's an opportunity for innovation here as well.
Pandemic-driven shifts in how people work
The pandemic rocked the foundation of new product development (NPD), reformulation, and innovation. In addition, one could argue that it's reshaped the entire CPG supply chain, from sourcing to production and logistics.
Many companies avoided significant pandemic disruptions by sourcing their raw materials from local suppliers or turning to alternate ingredients. Others weren't so lucky. The shortage of critical ingredients forced many companies to switch to substitute sources, resulting in slower production times and higher costs inflated by climbing transportation expenses and processing delays.
One consequence of COVID-19 supply chain issues is that many companies find themselves stuck with a product they don't want to sell, lacking the flexibility to reformulate or create something new. So, while businesses feel the pressure from consumers demanding products free of potentially harmful additives such as plastic packaging and genetically modified organisms (GMOs), they don't have easy access to them.
This stems from their inability to find replacements for these items quickly enough. As a result, finding healthy replacements poses an even greater challenge.
Skyrocketing inflation, increased costs, and wary consumers
So, what does this mean for CPG brands? In a nutshell, it's more expensive to make products than it used to be. Wholesale prices have risen by 11.2% over the past two years, and input prices in the food manufacturing industry jumped 14.6%.
Inputs include ingredients and packaging materials to labor, energy, transportation, and warehousing costs. With inflation running rampant, manufacturers can't easily pass along increased overhead costs by raising retail product prices to maintain their profit margins.
Consumers are increasingly price sensitive after enduring months of rising inflation rates that limit how much they can spend on an item based on their household income level. Consumers also want healthier foods with fewer additives or artificial ingredients; however, experts agree that you can only meet these demands if innovation allows companies to provide meaningful solutions while keeping a lid on cost increases across distribution channels.
Sustainability-driven goals and corporate social responsibility
Sustainability remains a crucial issue for CPG brands and the supply chain today. Consumers insist on knowing what they're buying, and sustainability is essential to that conversation.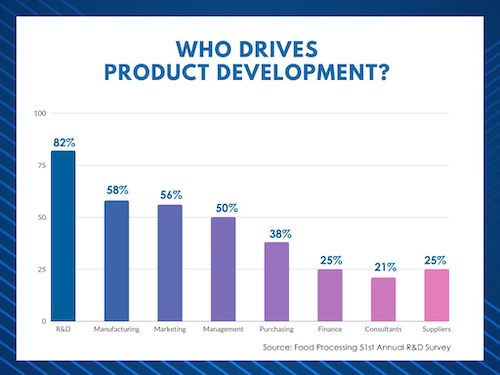 The demand for transparency around production processes has grown substantially over the past decade. As a result, consumers are looking for companies to raise the veil a bit more on how they produce their finished goods. This transparency encourages them down a path of better overall corporate sustainability (and its excellent PR).
Sustainable goals will dictate the future of the supply chain. For example, companies want to be ready for tougher regulations or higher taxes. But there's also a need to meet consumer nutritional requirements while maintaining quality ingredients and reducing costs — a tall order.
To offer food products that are both affordable and healthy, many brands will need reformulation solutions that will make their products more sustainable.
CPG supply chain challenges
Supply chain challenges threaten new product development and reformulation efforts at CPG companies. Nevertheless, the supply chain remains the backbone of any CPG brand. Unfortunately, challenges to this critical component are causing headaches for many companies as they navigate network disruptions.
The recent worldwide pandemic and other factors – like the Great Resignation – have broken today's supply chains that require a new approach, including product formulation changes. Sometimes, the original ingredient is unavailable, or the supplier can't match the expected quality. This scarcity can lead to manufacturers using other ingredients that could be perceived as lower quality by consumers and demand regulatory approval.
Supply chain challenges threaten existing manufacturing needs and future innovation initiatives that rely on a reliable infrastructure for quick delivery of raw materials needed for research and development (R&D).
Workforce challenges
When it comes to engaging workers, there's no one-size-fits-all approach. Workforce challenges vary widely across different industries and geographies, but they all share one thing: the future of work needs flexible businesses – and employees.
For CPG brands and retailers alike, this means addressing issues such as labor shortages and remote or hybrid work and developing a plan for attracting new talent in the long term.
The Great Resignation
Over the past couple of years, we've witnessed the Great Resignation, a phenomenon characterized by an historic increase in people leaving their jobs, leaving employers unable – or unwilling – to replace them with new hires. Unsustainable costs of living and difficulties accessing work due to pandemic conditions are just two factors fueling this Great Resignation.
What comes next? The new workforce will probably be more flexible than it's been historically. This agility represents a considerable challenge for HR teams, which need to consider how they can retain talent in an increasingly competitive marketplace (not only against competitors but other industries as well). It might also represent an opportunity for the entire organization to think differently about how they operate and plan for a decentralized workforce less reliant on central office roles.
The future of work and reformulation
So, where does this leave us? We end up with a future where technology plays an even more significant role in our work and life. The human-machine relationship is changing, with more conversation about "humans and technology" versus the older way of thinking about "humans versus technology."
Technological advances in automation and data-driven decision-making will be significant as companies tackle labor shortage issues. Automating workflows also helps ensure that regulatory compliance, quality assurance, and supply chain management work together seamlessly as a single unit rather than responding separately to crises.
While technology can improve workflow, human oversight remains indispensable. So, companies shouldn't look at automation to eliminate jobs. Instead, they should view it as an opportunity to enhance employee engagement while reducing costs.
Food safety
Naturally, food safety has become a top priority for CPG brands. With increasing consumer awareness of health and wellness concerns, consumer demand for natural ingredients is also growing. Additionally, food safety regulations have become more stringent across the globe. As such, CPG brands are facing unprecedented challenges in food safety, ingredient sourcing, and procurement.
When addressing these issues, attack them head-on by implementing new product innovations that meet consumer demands while maintaining strict compliance.
It's essential to have a partner who understands the regulatory environment and how to create innovative supply chain solutions that keep your brand competitive.
Rethinking food reformulation
The future of food is changing, and brands must adapt. The emergence of new technologies, consumer expectations, and sustainability trends have built a new world order for CPG companies. To remain competitive, brands must rethink product development and reformulation.
Food innovation is not only about creating new products but about improving existing ones. To address these challenges, manufacturers need to change their approaches to every aspect of product development.
Product development teams in the past worked in silos and couldn't get a comprehensive view of product development and reformulation. That's an approach that's no longer feasible.
Product lifecycle management (PLM) solutions can help companies manage new product development strategically and with agility by providing insight into everything from concept creation through design until commercialization — reducing risk while increasing R&D efficiency.
Today's consumers want simpler lives and transparent brands. And today's companies strive for better consumer engagement as eating occasions shift and consumers work to limit the number of products needed for a complete meal.
Brands need to be more attentive as buying habits change to embrace simple solutions with fewer ingredients.
Looking ahead
Consumers will continue to play a significant role in reshaping the industry as food and beverage brands work toward greater transparency, traceability, and other sustainability goals. To stay on the right side of consumer sentiment, brands must ensure their products deliver while representing positive values.
Embracing collaboration is crucial to tackling significant issues like reformulation and new product development. It's also critical for navigating pricing and distribution shifts that are likely to persist into the next generation of the supply chain.
Brands need to be agile enough to adapt quickly when unexpected trends emerge. In addition, brands need strategies that allow them flexibility when adjusting prices or supply chains based on changing market conditions or consumer preferences.
Takeaways
The COVID-19 pandemic era still presents substantial obstacles to food manufacturers, including the need to reformulate their products. As a result, the CPG world has seen increased demand for sustainable practices that ensure the quality and safety of ingredients.
For the foreseeable future, food manufacturers must wrestle with supply chain shortages and embrace new suppliers from different regions of the world (or even at home) while staying on top of other issues, such as labeling claims for quality, safety, and ESG.
Companies will need to focus on automating their supply chain processes to reduce costs while maintaining quality assurance . Reach out to TraceGains to learn how we can help your brand better manage your complex global supply chain.