With all the talk of inflation, shipping bottlenecks, and a broken supply chain, it's easy – at least for consumers – to forget about the fundamental building blocks of every food, beverage, and dietary supplement: the ingredient.
But that's where so many of today's problems took root. What began as supply shortages in China because of COVID lockdowns spiraled well beyond that, aggravated by rising fuel prices, persistent droughts, and war in Eastern Europe.
Ingredient prices keep climbing
Sosland Publishing reported that staples continued to climb in the first half of 2022:
In May, flour prices peaked along with wheat futures between 55% and 80% higher than the year before. While prices have fallen since then, they remain higher than in 2021.
Egg prices also topped out in May, while egg product prices kept climbing until June. Breaking eggs reached 4.7 times their 2021 value, retail eggs hit 3.5 times their 2021 prices, and dried products reached between 3.8 times and 5.8 times their 2021 levels.
In July, spot refined cane sugar hit 68 cents a pound, up 51% from 2021 and the highest price since 1974.
Those higher ingredient prices and historically high shipping costs have meant painful price points for consumers. For example, Information Resources Inc. (IRI) reported that at-home food prices jumped 1.2% from June to the end of July and 14.4% year-over-year.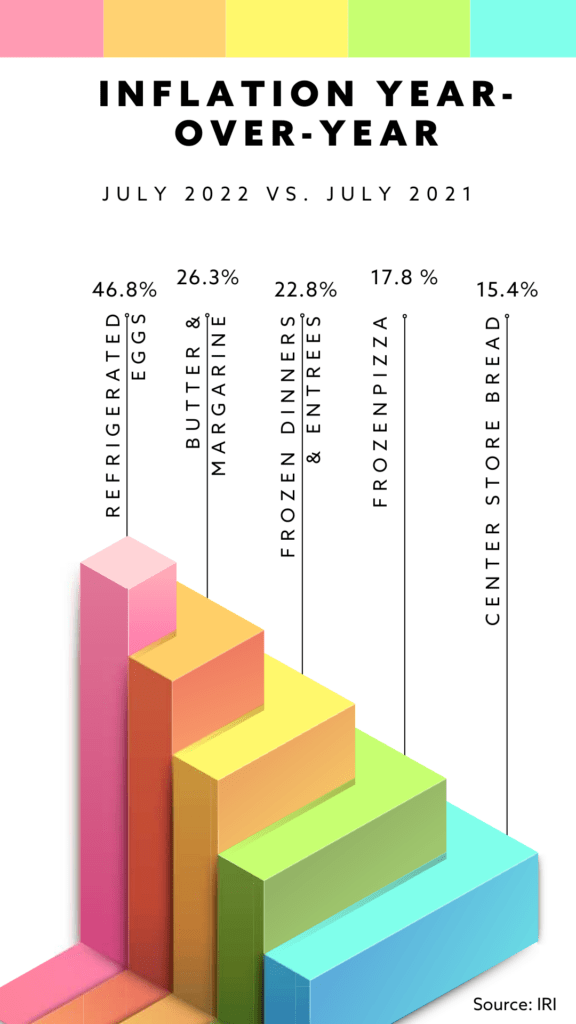 "Consumers are responding to rising prices by shopping promotions, prioritizing value options, and trading down to avoid going without," IRI's president of Thought Leadership for CPG and Retail Krishnakumar (KK) Davey explained. "We're advising our manufacturer clients to deploy all levers of strategic revenue management, prioritize strong in-market execution, and invest in retailer partnerships to ensure that the right products are available in the right places at the right times."
Not that it will make the average grocery store shopper feel any better, but things are far worse in the UK, where experts expect double-digit inflation to plague consumers through at least the end of the year.
Responses vary
Earlier this year, TraceGains checked in with its customers to see how they handled the lingering crisis.
Two-thirds of the customers we talked to admitted they've had to pass higher prices to consumers sometime over the past two years. Almost half of them pulled the plug on some products because of unsustainable price surges.
We also picked their brains about how they might adapt moving forward. Nearly 70% of our customers planned to expand their supplier networks within the next two years. And about 25% of customers suggested they might re-shore their supplier base to make life easier.
Our customers aren't the only brands searching for solutions to supply chain madness.
Most of the more prominent brands, such as Coca-Cola and Danone, have nudged up prices to offset higher ingredient costs. Others, including Nestle and PepsiCo, have turned to "shrinkflation," holding the line on prices while reducing package sizes.
In addition to bumping up the prices on its cereal line, General Mills has returned to the R&D bench, tweaking the recipes of its stable of consumer favorites, including its famous pizza rolls.
"In some of our products, we've reformulated over 20 times year-to-date," Jon Nudi, group president, North American retail for General Mills, said in a recent earnings call. "Every time you make an ingredient change, you have to change the formulation, which is obviously a lot of work by our two teams."
Gather 'round
The TraceGains Networked Ingredients Marketplace, coupled with our robust suite of enterprise solutions, lets brands build new supplier networks quickly and formulate at a moment's notice with live ingredient technical data. The agility and resilience these solutions create are an ideal fit for the unique needs of a changing market.
A Networked Ingredients Marketplace lets buyers, sellers, and co-manufacturers collaborate rapidly in a shared business ecosystem. This marketplace fosters the immediate exchange of relationship and vital ingredient information, including global alerts, while offering a bespoke analysis of everything a brand needs to know.
"As consumers, we feel the pain of supply chain issues each time we walk out of a grocery store," TraceGains CEO Gary Nowacki explained. "This survey sheds light on the problem directly from a CPG brand's perspective and lets other food and beverage companies know they're not alone in this fight. Forward-thinking brands have used this unfortunate time as a wake-up call to modernize antiquated operations, and those who already have are much better positioned to mitigate disruptions with as little impact as possible."
For a sneak peek at how this groundbreaking marketplace will change the industry, check out TraceGains today.