Private label products – particularly in the food and beverage business – have traveled a long road to mainstream success. Historically considered "low budget" brand name alternatives made of inferior materials – thus the lower price – private label brands have managed to earn respectability, especially over the past decade.
Costco is a textbook example of private label success. The members-only warehouse wholesaler originally wanted to stock a brand-name soft drink on its shelves but couldn't negotiate the price they wanted. So, in 1995, Costco came up with its own soda and added its now-ubiquitous Kirkland Signature brand name, named after Kirkland, Washington, the company's headquarters.
Kirkland Signature products typically account for anywhere between a quarter and a third of the company's total sales. Kirkland Signature sales exceeded $50 billion in 2022, making it one of America's largest consumer packaged goods brands in terms of sales.
Costco's far from alone in finding commercial success in private label products. Kroger's Simple Truth store brand earns at least $1 billion in sales annually. Walmart, which attributes more than half its annual revenue to food and beverage sales, kicked off an overhaul of its Great Value brand to make it trendier, including constructing a 12,000-square-foot testing facility.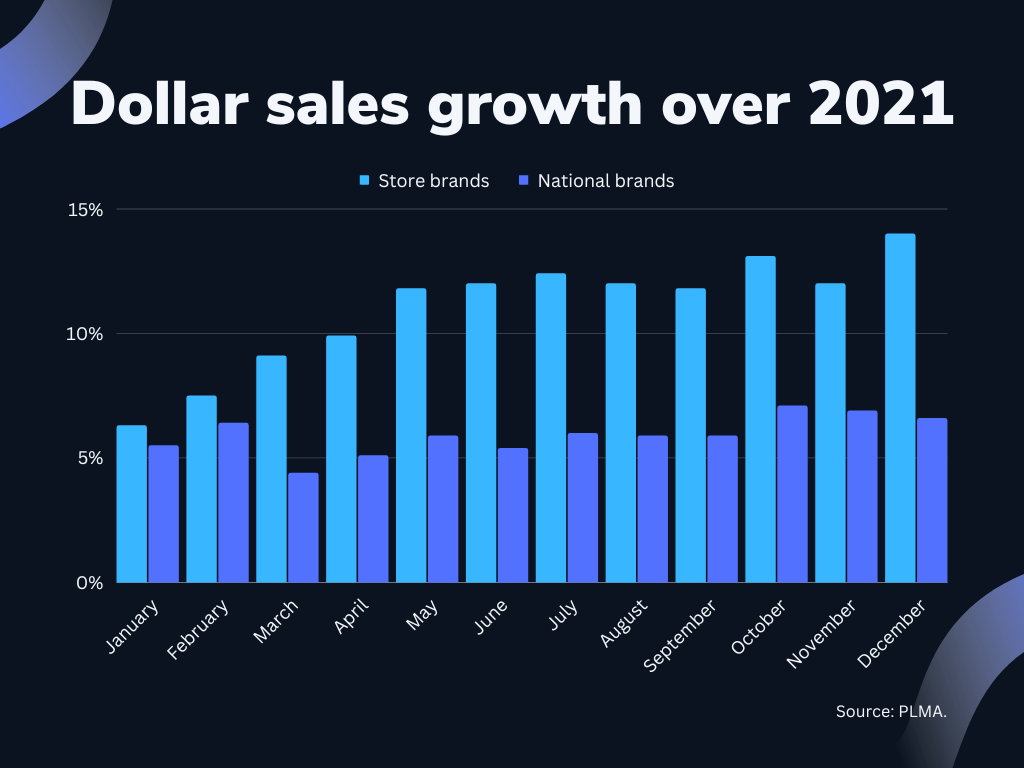 And in 2019, Target, which already boasts more than a half dozen store brands, launched its Good & Gather brand with 650 products. By 2021, Good & Gather surpassed $2 billion in sales and continues to outpace the industry average for private-label growth, according to Winsight Grocery Business.
For what they're worth
Private label brands are now big business. According to the Private Label Manufacturers Association, "one of every five food or non-food grocery products sold across the U.S. carried the retailer's name or own brand and was supplied by a store brand manufacturer."
Additionally, the group reports that "In 2022, store brand sales rose 11.3%, nearly twice the growth of national brands." And by the end of last year, annual store brand dollar sales had increased by nearly 40% over the last five years.
A 2019 PLMA survey found two-thirds of respondents agreed that "in general, store brand products I've bought are just as good, if not better than the national brand version of the same product." In addition, more than 40% said they buy store brands "frequently" or "always," and 25% buy more store brands than they did five years ago.
Other telling findings from that survey include:
Fewer than one in 10 shoppers say they never buy private label products.
Six in 10 shoppers believe private label products are often from the same manufacturers as brand names.
Seven in 10 shoppers "usually" buy at least a few private label products during each shopping trip.
Half of the shoppers say private label brands are "just as good" as brand names.
Private label brands have become so successful that major brands are feeling the pressure.
Millennials flock to store brands
It's probably not surprising that millennials drive much of this growth. A Cadence Consulting Group study found that 54% of millennials said store brands influence their choice of retailer. In comparison, 60% thought their chosen store brand products were better than the brand name alternatives.
The rise in eCommerce is another factor driving private label brand growth, as Amazon's success in this space has already shown. For example, Walgreens sells store brands on Alibaba.com to penetrate the vast Chinese market. At last count, the company had nearly 2,500 products listed on the site.
Consumers aren't the only ones feeling the love for private labels. Retailers have noticed, too. FMI, the recently rebranded Food Industry Association, found that 58% of the surveyed retailers are "planning increases in space allocation to private brands over the coming two years."
The numbers can be overwhelming, but the message is clear. Private label brands have grown up. Younger consumers and online shoppers are gravitating toward them more significantly. This latest consumer preference shift means more opportunities for store brands and more significant challenges for legacy brands.
There's a better way for brands and co-mans
With this much opportunity, it's increasingly vital that co-mans can respond quickly to brands looking for new manufacturing partners.
TraceGains offers the industry's only solution purpose-built to help contract manufacturers and packers work more efficiently with their brands. With TraceGains, co-mans can better manage their relationships with brands and prove their value with industry-standard digital compliance tools and rich finished good specification capabilities. Request a demo today.