Over the last decade, consumers and regulators have increased the pressure on the CPG industry to improve sustainability and transparency throughout the supply chain. Several factors, including environmental regulations, shareholder pressure, and consumer preference, drive this pressure. As a result, CPG companies must increase supply chain transparency and supplier communication to meet these demands.
The problem with transparency
A lack of transparency can create several issues for food and beverage brands. First and foremost, it erodes consumer trust. For example, in one 2022 study, 72% of consumers worldwide said they would pay more for sustainable products. Simply put, customers want to know what they're buying and are willing to pay more for products from brands they trust.
A lack of transparency now can also lead to compliance issues later. Government regulation will follow as sustainability continues to climb the ranks of consumer priorities. It already has in the European Union, where the bloc's General Food Law Regulation requires food manufacturers to disclose comprehensive information about their products — including ingredients, allergens, nutritional values, and country of origin — on labels and online. Failing to comply can result in hefty penalties, including fines and product recalls.
The need for sustainability
The CPG industry is one of the most significant contributors to greenhouse gas emissions and water pollution. As a result, shareholders and consumers have pressured companies to adopt sustainable practices.
There's a growing focus on reducing carbon emissions and water usage throughout the supply chain. Many companies have responded by setting ambitious sustainability goals, such as becoming carbon-neutral by 2030. However, achieving these goals will require significant changes throughout the supply chain.
Supply chain transparency and achieving sustainability
Transparency remains the critical first step to realizing sustainability goals. To cut emissions, companies need greater visibility into their suppliers' activities. This visibility includes understanding how brands source raw materials, which manufacturing processes they employ, and how they get their products to market. Without this visibility, it's difficult to identify areas where companies can slash emissions. In addition, companies must track progress toward their goals and assess whether suppliers are honoring their commitments.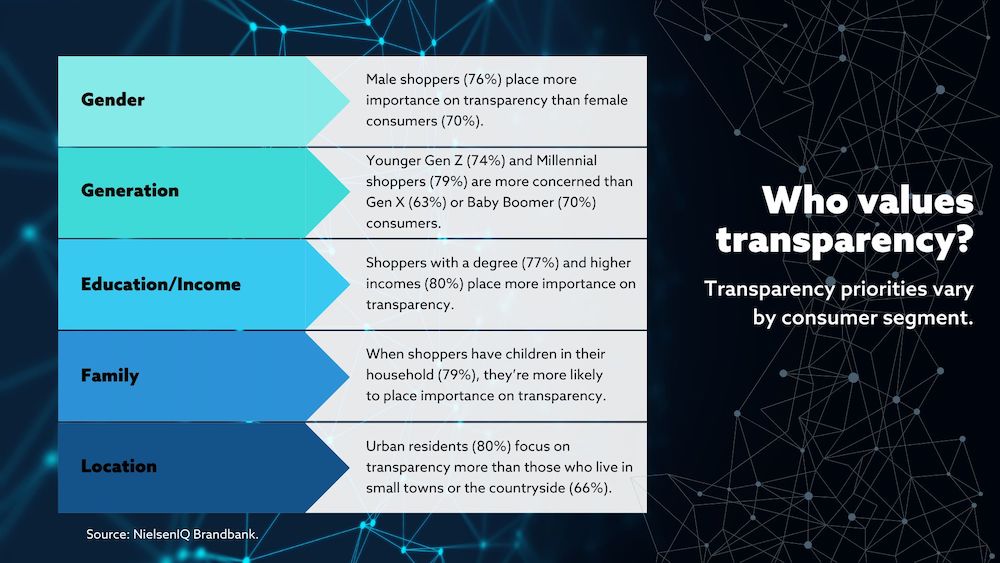 Transparency also plays an essential role in better water stewardship. Companies must understand where their water comes from to avoid sourcing from at-risk areas. They also need visibility into how much water is used at each stage of the supply chain to identify opportunities for improved efficiency. Finally, companies need to engage with local stakeholders to ensure their operations aren't putting undue pressure on local water resources.
The benefits of supply chain transparency extend beyond environmental concerns. Those benefits also include improved risk management and increased operational efficiency. By better understanding supplier behaviors, brands can anticipate disruptions and plan accordingly. In addition, they can avoid duplication of effort and optimize resources across the supply chain.
Achieving supply chain transparency
There are multiple challenges to achieving transparency in the CPG supply chain:
The supply chain is complex, with many different types of suppliers. This lack of consistency makes it challenging to collect and track data.
Sustainability is a relatively new focus for many companies, and they might not have the necessary systems and processes.
There can be a lack of trust between companies and their suppliers, making it difficult to share information.
Some companies might be reluctant to disclose information that could give competitors an advantage.
Despite these obstacles, there are several ways that CPG companies can increase supply chain transparency.
Establish a clear and consistent definition of transparency. Transparency means different things to different people. So, companies need to establish a clear and consistent definition of what they mean by transparency. This will ensure everyone is on the same page and can manage expectations appropriately.
Collect data at the source. Companies must collect it at the source to get the most accurate and complete data. This imperative means working with suppliers to establish systems and processes for tracking data. It can also demand new technology investments, such as sensors and tracking devices.
Clean and consolidate data. Data brands collect from suppliers will often arrive in different formats. This makes it difficult to make adequate comparisons. In addition, companies must clean and consolidate their data for easier analysis.
Analyze data to identify trends. Once companies collect and consolidate that data, companies can begin analysis it to better identify trends. This will help them understand where emissions are coming from and where they can reduce them.
Share information with suppliers. Companies need to share information with their suppliers to achieve transparency. They can do this through regular meetings, reports, and other communications. In addition, establishing a culture of trust is vital so that suppliers are comfortable sharing information.
Set targets and track progress. To drive change, companies must set emission reduction targets and water conservation goals. They also need to track their progress to identify areas where they're making the most progress.
Engage stakeholders. Companies must engage with local stakeholders to ensure sustainable operations. This includes water users, environmental groups, and community leaders. It's essential to listen to their concerns and address them quickly.
Increase sustainability with TraceGains
Supply chain transparency helps brands better understand their suppliers, anticipate disruptions, and optimize resources. It also helps to build trust and improve communication. In doing so, they'll position themselves better to meet the needs of their customers and shareholders.
Are you looking for a way to gain speed and control over compliance and product development? TraceGains can help. We've been providing the world's only holistic networked solution for global brands for more than 15 years, allowing them to become more agile, resilient, and sustainable.