As 2021 starts to wind down, it's time to look ahead at what 2022 might have in store. Spoonshot, a food and beverage market intelligence firm, recently published its 2022 trends report, one of the first of what are sure to be many new year forecasts. Spoonshot's researchers break down the expected new products in a few different categories, starting with:
Health
Consumers had been increasingly turning to healthier food and beverage options even before the pandemic reinforced the importance of self-care. Spoonshot reports that interest in health jumped 30% in consumer media and 29% in business media in 2020. That renewed interest should continue into the new year – and beyond.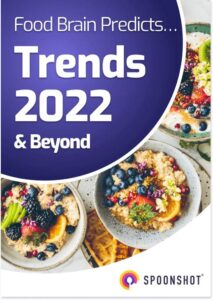 As the pandemic surged, research suggested immunity boosters, such as Vitamin C and zinc, might mitigate the symptoms. As a result, the industry responded with several product launches that married the two ingredients.
Manufacturers will almost certainly pursue other food synergy offerings to address other chronic conditions, such as diabetes, hypertension, and obesity.
Examples of potential food synergies include broccoli and tomato, cocoa bean and raspberry, and black pepper and turmeric.
Gut health has emerged as another area of concern among consumers. As research showed the importance of a healthy gut microbiome, online interest in prebiotics and probiotics surged 65% in 2020. And, again, COVID has been a driving factor since healthy guts keep lungs healthy and immune systems strong. This presents a great opportunity for brands that want to target this growing interest with functional new products.
Foodservice
The pandemic hit the foodservice industry particularly hard over the past two years. The pandemic closed more than 110,000 businesses and forced millions out of work. And even consumers returned to restaurants and bars, foodservice operators struggled with supply chain issues and labor shortages.
The road to recovery will be long and require hard choices and more than a little innovation.
According to Spoonshot, one way foodservice operators can help themselves is by "incorporating dishes with ingredients and flavors that can be appreciated by people suffering from diminished or lost sense of taste or smell."
Examples to improve dishes include:
Crunchy or crisp textures can help keep food in the mouth for longer, extending the taste experience.
Umami flavors, which can increase saliva flow and boost the taste.
Additionally, experts predict that the popularity of curbside pickup and home delivery will remain a viable revenue stream.
Part of that success will hinge on the accelerated adoption of new technologies, such as AI and robotics, which can go beyond delivery and order fulfillment. Operators have begun rolling out robots to manage a variety of kitchen and service tasks.
The experts at Spoonshot expect to see an increased push toward automation in the food service sector.
"In the coming year, we will see a greater push for automation from the food sector, particularly in quick service outlets, where speed, quality, and consistency are important," the report explains. "There is scope for automation across the board to cut down tedious and repetitive tasks, like food prep, so that restaurants can focus on more value-added services, like creating new dishes. It can also help with changing menus more often."
Sustainability
Sustainability continues to be a big draw – especially for younger consumers. The most obvious solution to this has been the advent of lab-grown products, whether it's meat, milk, or even coffee.
This trend has also accelerated the growth of plant-based products beyond proteins, where grains have emerged as the next big source of future dairy products, led by the exploding popularity of oat milk.
Rounding out this trifecta of trends stemming from sustainability concerns is the industry's move toward upcycling.
"Over the next year, upcycling is going to move from niche food and drink launches and break out into the mainstream with greater specifics on the derived ingredients and their uses not just in food but also in non-food categories," Spoonshot's report explains. "We'll even likely start to see new claims on-pack aimed at promoting the use of upcycled ingredients and reducing food waste."
Networked Product Development
TraceGains Networked Product Development Suite accelerates new product development from concept through production, fast-tracking research, recipe iteration, and change management. We tear down internal and external silos and replaces them with a networked platform that seamlessly connects teams, automate business processes, and digitizes supply chain data.
Our networked solutions offer brands a unified view of products, data, and processes across the business and the larger supply chain. With TraceGains, new product development teams can leave behind manual processes and embrace automation – transforming supply chains into data-powered strategic assets and growth engines. As a result, brands can react quickly to market and supply chain disruptions and innovate faster. Request a demo today.