The 2023 Food Industry ESG Survival Guide
In less than 30 years, ESG has evolved from a lofty idea to an investment powerhouse, touching every sector—especially the food and beverage industry. This acronym, which stands for environmental, social, and governance, can be tied to a number of metrics from consumer interest to market returns. But what does it mean for brands?
ESG is already shaping global food regulatory trends. As both consumers and investors have become increasingly aware of the social and environmental impact of our industry, legislation has also advanced, affecting the bottom line of many businesses. According to Food Manufacturing, "the results of a PwC survey showed that 37% of private equity respondents have turned down potential transactions due to ESG issues, and a report by Bain & Company indicated that 93% of limited partners would walk away from an investment if it posed an ESG concern.
Regulators gonna regulate
Industry veterans are no strangers to regulatory scrutiny. So, they expect an increased focus on ESG in 2023 to draw even more attention from government agencies and lawmakers. The European Union's already started making moves, and the U.S. Securities and Exchange Commission (SEC) is taking a closer look at ESG investments as we speak.
And while it's still early days, companies must get ahead of the tidal wave of new regulations bearing down on the industry. Spending now to monitor regulatory shifts will save brands later by staving off non-compliance risk, which invites threats of fines or legal action.
The F&B survival guide
Not sure how to navigate evolving stakeholder demands? Well, you're not alone. The food and beverage industry is bracing for increased emphasis on this topic. Already, new proposed regulations are emerging online daily.
To help our partners across the supply chain stay one step ahead, we've created this up-to-date survival guide that breaks down the latest trends, proposals, and data tracking solutions.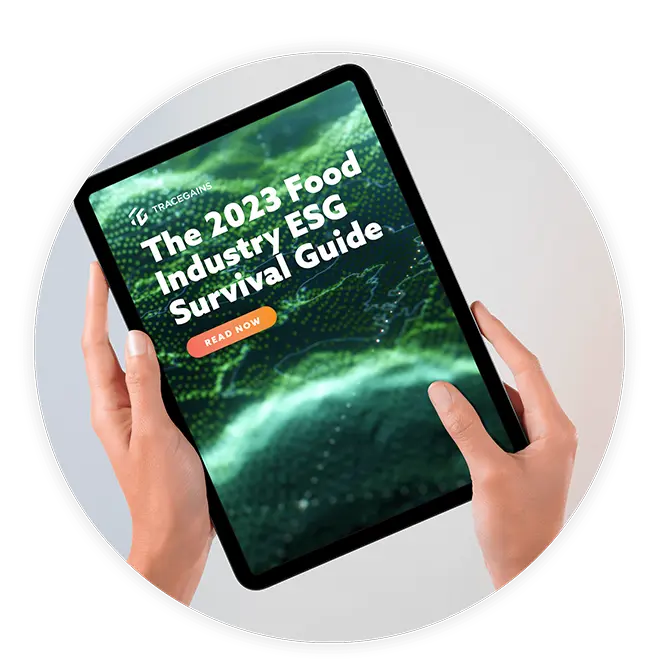 A Sneak Preview: Chapter 1
ESG: An Origin Story
"Greed, for lack of a better word, is good."
In 1987, Gordon Gecko finally articulated what had long been Wall Street's battle cry.
But investors worldwide—for the most part—had already leaned into more socially responsible investing by steering clear of apartheid South Africa in the mid- to late-1980s.
Perhaps inspired by the rise of a global corporate conscious, the United Nations launched The United Nations Framework Convention on Climate Change (UNFCCC) in 1992 to tackle rising greenhouse gas emissions.
Finally, after decades of a laser-like focus on the bottom line, investors started to pivot toward "responsible investing" in the early aughts. It's a movement that celebrated its coming out with the 2005 publication of "Who Cares Wins 2005 Conference Report: Investing for Long-Term Value."
That landmark report gave voice to the silent majority of institutional investors, asset managers, research analysts, and others who felt that environmental, social, and governance (ESG) considerations would play an increasingly crucial role in long-term investment strategies.
Learn more from this resource
Download this exclusive eBook for insights on:
Increasing transparency with stakeholders, regulators, consumers, and employees
Addressing risks to brand reputation and profits, including cybersecurity deficiencies
Maintaining compliance with applicable regulations in a global supply chain
Avoiding greenwashing techniques that undermine the efficacy of ESG policies
Identifying current and future trends that stand to influence the food and beverage industry's projected growth