9 Things Your Allergen Control Program Is Missing
Researchers estimate that 32 million Americans suffer from food allergies, including 5.6 million children under 18. In some, a food allergy can cause severe symptoms or even a life-threatening reaction known as anaphylaxis. And allergies are on the rise.
Today's top allergens
U.S. regulators, including the Food and Drug Administration (FDA), classify allergens in finished goods as a chemical hazard. With the introduction of the Food Allergen Labeling and Consumer Protection Act of 2004 (FALCPA), we have a ready list of the most common allergenic foods. And these top eight food allergens are responsible for 90% of food allergic reactions in the United States each year.
5. Tree nuts
6. Peanuts
7. Wheat
8. Soybeans
Quality control and compliance
Once a facility identifies an allergen in a raw ingredient, Quality Control teams must establish control steps if the manufacturer doesn't run the product on a separate production line or if employees perform a complete wet cleaning between allergen and non-allergen finished goods.
Consumers with food allergies depend on food manufacturers to identify, process, and market foods that are handled appropriately and labeled accurately. To ensure allergenic ingredients don't end up in the wrong products and to keep customers safe, manufacturers must establish and implement an effective Allergen Control Program. These programs must outline the storage, handling, processing, packaging, and identification of allergenic ingredients, supported by proper documentation.
Effective allergen control programs
Allergen control programs are complex, with elements ranging from ingredient supplier verification to storage, rework control, sanitation, and changeovers, among others.
In cooperation with AIB International, TraceGains put together this ebook to help manufacturers improve their Allergen Control Programs. Download it now.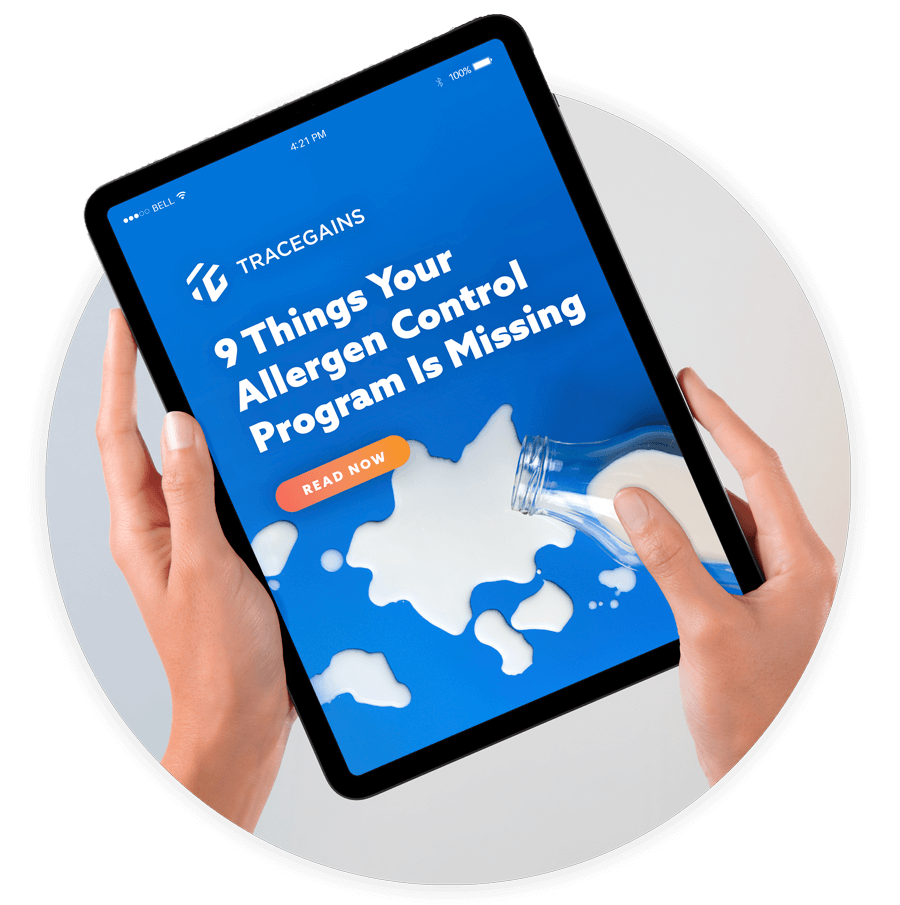 Sneak Preview: 2 Main Goals
Primary Objectives for Any Allergen Control Program
Allergen Control Programs are multifaceted, with elements ranging from ingredient supplier verification to storage, rework control, sanitation, and changeovers, among others.
 There are two main goals of any Allergen Control Program, which appear simple on paper but can be tough to execute:
Goal No. 1: If you make a product with an allergen in it, you need to make sure the allergen is declared on the label by its common name.

Goal No. 2: If you make a product that is NOT supposed to have a specific allergen in it, you need to do everything possible to prevent cross contamination. 
If you're like most food businesses, you have an allergen program in place. But what if you're missing a few pieces that would make your program more complete?
This guide walks you through nine recommendations that can improve your Allergen Control Program. 
Learn more from this resource:
Including important allergen insights, like:
The critical components of allergen control programs.
The danggers posed by cross-contamination.
How technology can automate and strengthen allergen controls.