GFSI Compliance Checklist Series – BRC Certification
Food safety is a journey, not a destination. It's an ongoing process and takes a commitment to unceasing improvement, and a healthy food safety culture. To succeed, every stakeholder in the supply chain must work together to control and prevent risk. The BRCGS for Food Safety is one of the world's leading Global Food Safety Initiative (GFSI) certifications to help companies stay ahead of the fight against risk.
Start now with BRCGS
The Standard began in the United Kingdom in 1998 to help the food industry meet the legislative requirements of the European Union General Product Safety Directive and the UK Food Safety Act. Since then, the standard has earned worldwide recognition with more than 26,000 certified sites across 130 countries. The standard became a GFSI-recognized certification program when GFSI emerged in 2000. Now in its 9th edition, the standard is constantly evolving to protect the consumer. It introduced food safety culture requirements, definitions for food fraud, and reduced audit burden through additional modules.
The BRCGS Food Safety Standard can be used by any food processing operation where open food is handled, processed, or packed, including products such as fresh produce pack houses and slaughterhouses to processed foods, canneries, and ready-to-eat products. The certification provides the framework to manage product safety, integrity, legality and quality, and operational controls.
Steps for BRCGS Certification
TraceGains developed this series of checklists in collaboration with our partner, Jason Sapsin, Sr. Legal Editor, Food & Drug at Thomson Reuters Publishing. Sapsin is a former FDA associate chief counsel and is based in Boulder, Colorado. Download the BRCGS Audit Checklist today to get started with the BRCGS Standard.
Be Audit-Ready 365
Audits can be a burden and requirements aren't getting any simpler. But with easy checklists and pre-loaded templates, coupled with the power of Networked Ingredients, TraceGains puts you out in front of compliance issues. Know where you stand at all times, and turn audits into a competitive advantage. Learn More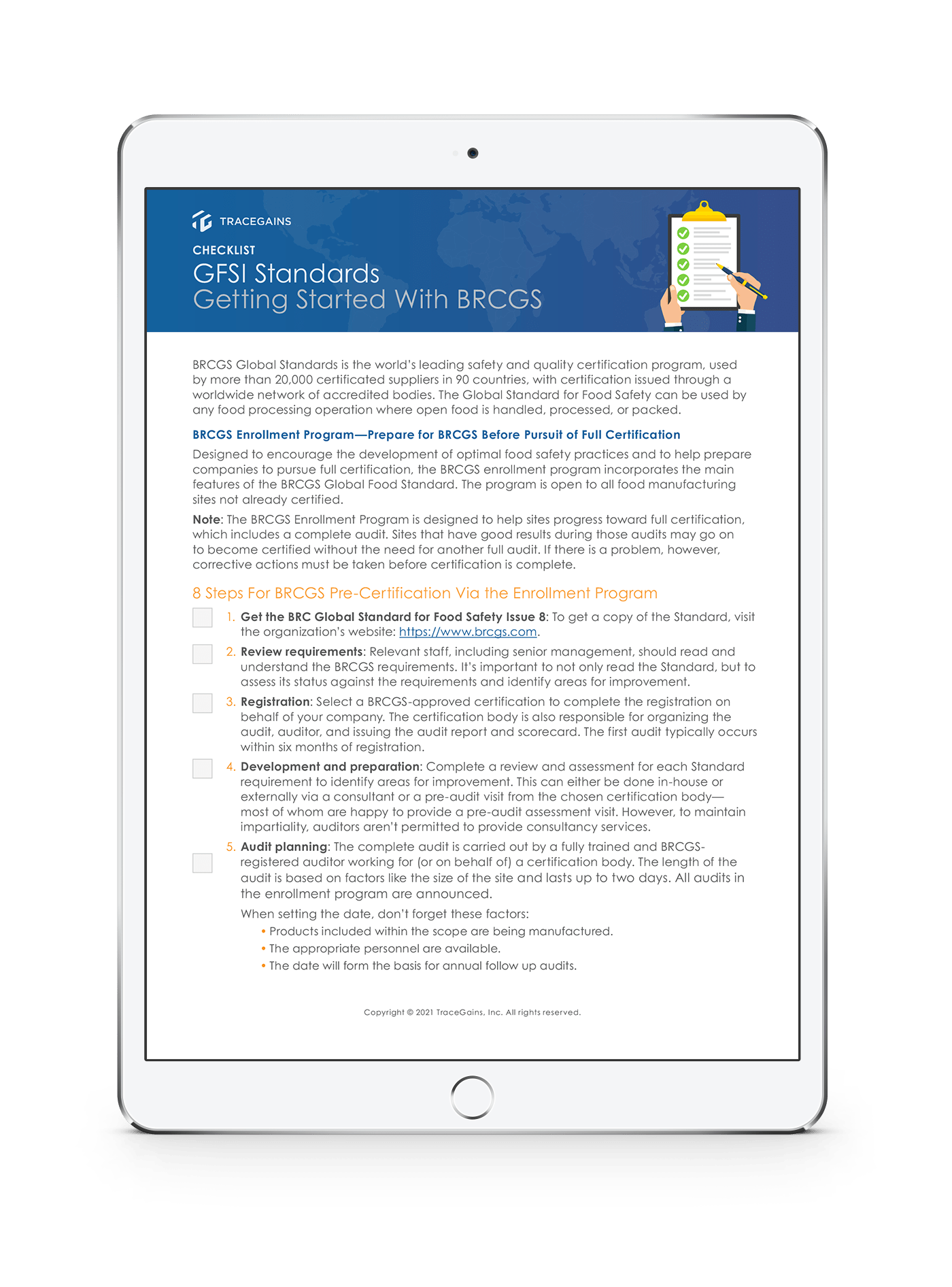 Build Your Partner A-Team From Objective Scorecards
With Networked Ingredients data from thousands of supplier locations, auditors quickly identify and prioritize suppliers, geographies and items with the strongest performance. Move high risk items and partners out of your operations or help them improve. You have a 360-degree view of the health of your supply chain.