Brokers and Distributors Still Struggle with a Data Crisis
Brokers, distributors, and importers find themselves uniquely positioned to serve the ever-changing consumer packaged goods (CPG) industry by helping companies source the ingredients they need for their finished goods in amounts that make financial sense and with all the necessary documentation. If you're a broker, distributor, or importer, you know the job comes with a host of challenges – and regulations.
Supply chain stress mounts
Few things are as misunderstood or taken for granted as to how Americans get their food and beverage products. And despite the growing popularity of buying local, today's supply chain is more global – and intricate – than ever. Industry experts forecast increasing food import bills, each year's more expensive than the last record-breaking total. In 2022 alone, food imports are expected to exceed $1.8 billion.
The moving parts that make up the supply chain have never been more vulnerable, or more complicated. Moreover, the 2011 passage of the Food Safety and Modernization Act (FSMA) – and other changing regulations – has added stress to the links that make up the global supply chain.
Data demands along the way
Brokers, distributors, and importers face unique challenges in today's food and beverage landscape. And with a heightened focus on documentation and recordkeeping, these critical gatekeepers face increased pressure to ensure that proper documentation follows each ingredient or finished good along its journey — from the supplier to the customer and every step in between.
So, if you're struggling to act as a steward for the CPG industry, know there's a better way. Learn more about the potential pitfalls and smarter solutions in this informative ebook.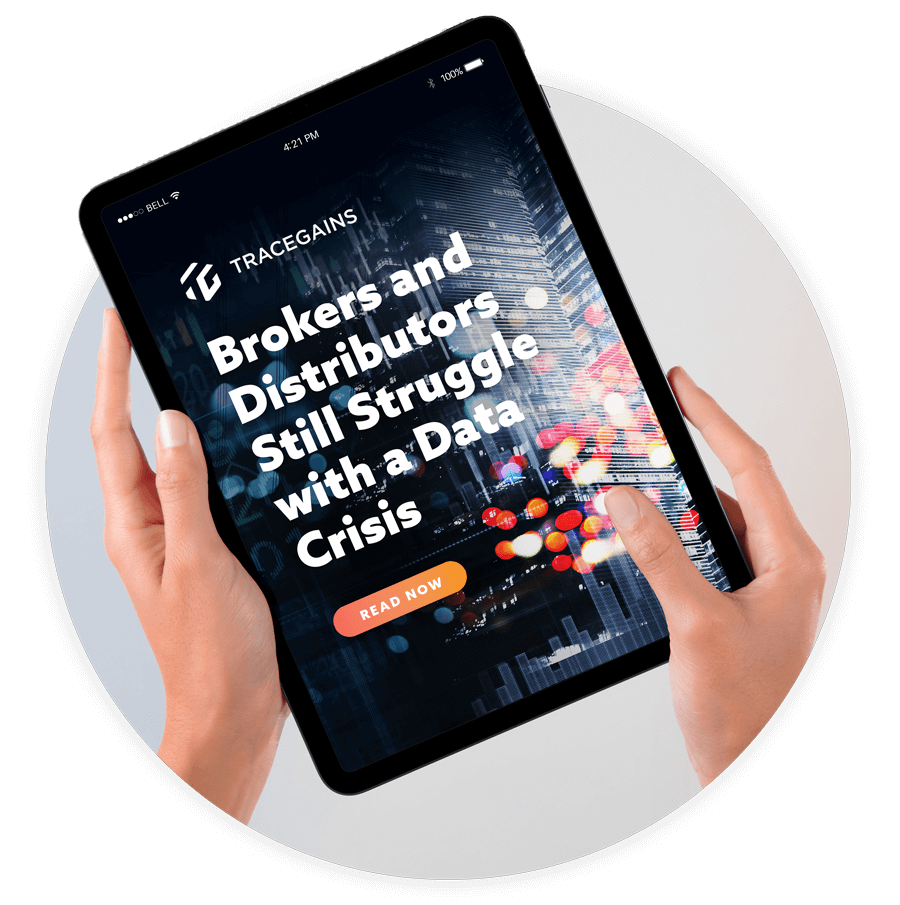 A Sneak Preview: Industry Challenges
Insight from Top Professionals
In addition to tighter regulations that mandate a more precise paper trail to back up the provenance and quality of imported goods, brokers and distributors face a more competitive landscape for their services, some from the unlikeliest sources.
"More retailers are taking control of products earlier in the supply chain and directly getting them to the shelf in stores," according to Michael Boynton, Vice President and Account Executive of PBL Insurance Limited's food, beverage, and hospitality program.
And while technology has made the broker and distributor's jobs more manageable, it's also made it easier for manufacturers to assume some of the functions they've historically farmed out to third parties, such as brokers.
"One of the biggest challenges that brokers and distributors face is that you're a middle person," Sue Huske, Owner ESB/Contract Supplier and Regulatory Manager for ICI Foods explained. "You have your customers coming to you because you supply them the ingredients. But you don't manufacture the ingredients, so you must go back to your suppliers to get the actual documentation for the product that was manufactured, whether it be the third-party audit certificate or the kosher certificate."
Learn more from this resource:
Once you download this ebook, you'll have access to additional information, including:
The latest challenges brokers, distributors, and importers face.
The changing regulations that continue to shape the market.
What FSMA means for brokers, distributors, and importers.
How to address data flow challenges with better document management.