As a result of the Food Safety Modernization Act (FSMA), the U.S. Food and Drug Administration (FDA) has ramped up food inspections. This proactive approach to food safety impacts CPG companies across the industry. Under the rules spelled out in FSMA, regulators must inspect all high-risk facilities every three years. All other facilities must be inspected every five years.
Where to start?
The role of audits is to ensure companies follow science-based preventive practices that will ensure the production of safe food. But too many companies, with domestic and foreign facilities, aren't fully equipped for FSMA's heightened requirements or for the increased audits. Training and audit preparation will be critical for any program to succeed. This training takes place at every level of the organization, from the corporate suite to the managers on the plant floor.
With the added pressure on the FDA to come in and perform these audits, it's never been more critical that food manufacturers be prepared before, during, and after an FDA audit. So, how can companies prepare for every step of the audit process?
Audit-Ready 365™
TraceGains developed this series of checklists in collaboration with our partner, Jason Sapsin, Sr. Legal Editor, Food & Drug at Thomson Reuters Publishing. Sapsin is a former FDA associate chief counsel and is based in Boulder, Colorado. Download the FDA Audit Checklist today to prepare for the arrival of FDA investigators.
With this complimentary download, you'll receive:
Pre-FDA Audit Inspection Day Checklist—Know exactly what to expect before an audit and how to put together a response team.
Day-of-Audit Checklist—Know how to handle yourself and your team.
Post-FDA Audit Inspection Day Checklist—Understand the different forms, what they mean, and how to best respond to them.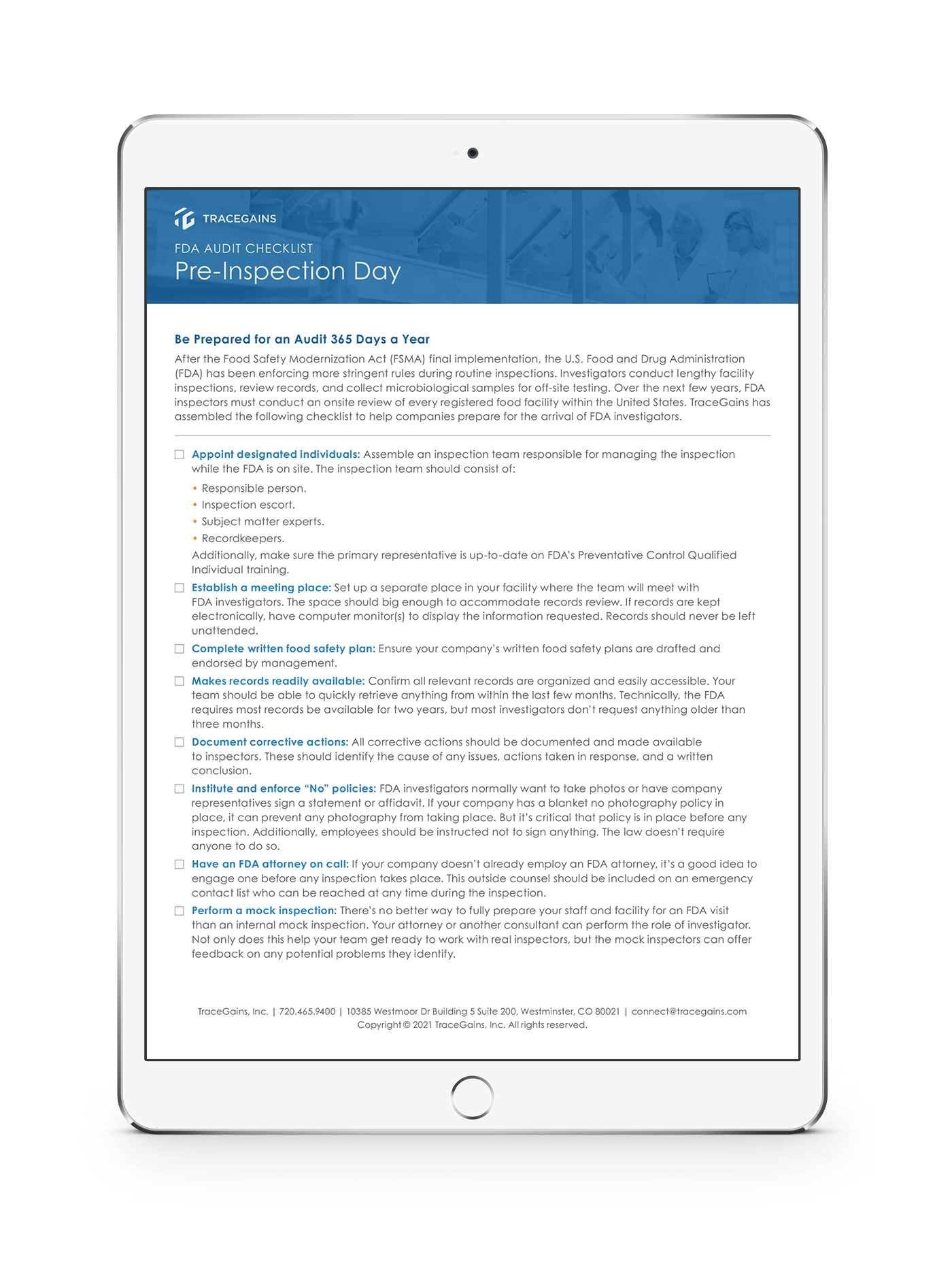 Audit Ready, Every Day
Audits can be a burden and requirements aren't getting any simpler. But with easy checklists and pre-loaded templates, coupled with the power of Networked Ingredients, TraceGains puts you out in front of compliance issues. Know where you stand at all times, and turn audits into a competitive advantage.