Since 2003, International Featured Standards (IFS) has been one of the leading global certification benchmarks for members of the food supply chain. It's already the principal standard across much of the European Union. IFS has certified more than 14,000 facilities to one of seven IFS standards throughout the world.
The focus of IFS is on establishing a standardized measure against which retailers and brand owners can assess their suppliers and increase transparency across the supply chain.
Streamlining Audit Processes
Like other GFSI standards, IFS streamlines the audit process. One onsite audit includes safety and quality parameters without the necessity for a preliminary desk audit. The standard requires follow-up audits every 12 months to maintain certification. IFS provides businesses a year to execute corrective actions (exempting those related directly to food safety or legislation), allowing companies valuable time to pivot.
Retailers, food service companies, and food manufacturers, who are all part of the IFS technical committees, support the standard and articulate the criteria to be fulfilled at a given level.
Businesses can earn certifications at one of two levels – Foundation and Higher Level.
Start Now With IFS
TraceGains developed this series of checklists in collaboration with our partner, Jason Sapsin, Sr. Legal Editor, Food & Drug at Thomson Reuters Publishing. Sapsin is a former FDA associate chief counsel and is based in Boulder, Colorado. Download the IFS Checklist to get started on certification.
The IFS Standards
IFS Standards cover much of the supply chain and are available for:
IFS Food v6: global-leading, GFSI-benchmarked scheme.
IFS Logistics v2: most-used storage and distribution scheme around the world and fastest growing scheme in North America-applied for GFSI benchmarking.
IFS PACsecure: a GFSI-benchmarked, stand-alone packaging materials scheme developed in North America by the packaging industry.
IFS Broker 2: the first and most-used broker standard in the world.
IFS Cash & Carry/Wholesale: for cash and carry markets.
IFS Store: for retail and grocery.
IFS Household and Personal Care (HPC): for production of detergents, soaps, lotions, and other household and personal care items.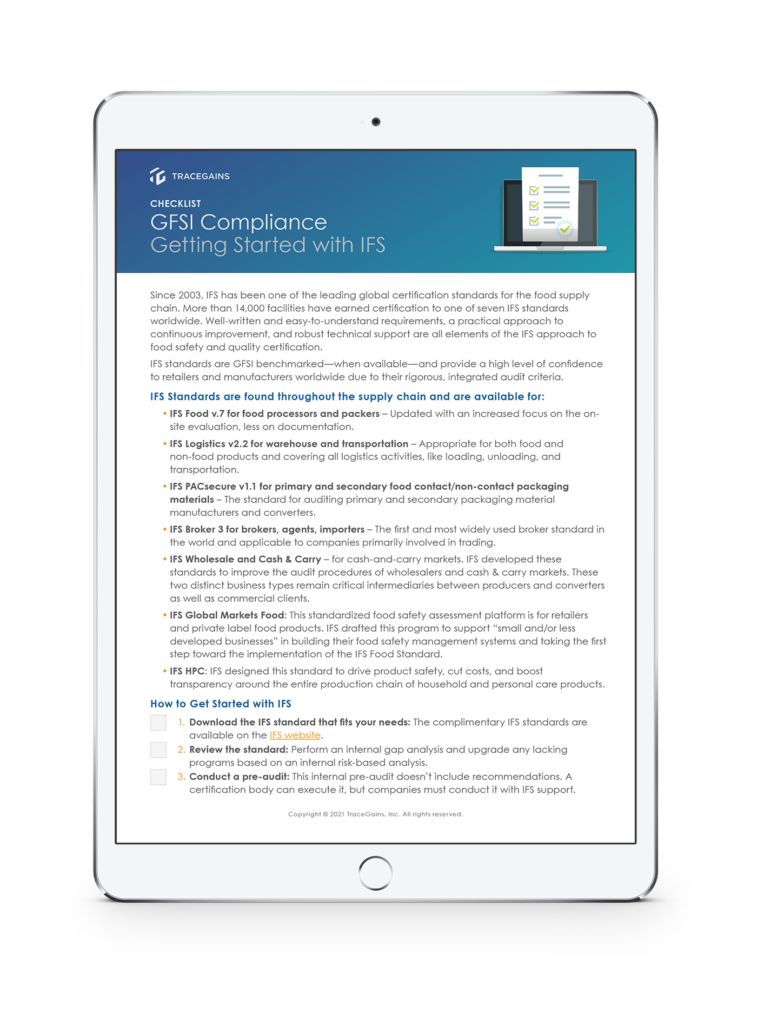 Build Your Partner A-Team From Objective Scorecards
With Networked Ingredients data from thousands of supplier locations, auditors quickly identify and prioritize suppliers, geographies and items with the strongest performance. Move high risk items and partners out of your operations or help them improve. You have a 360-degree view of the health of your supply chain.
See How