The food landscape in the United States remains as fluid as the supply chain itself. As a result, it makes securing it that much more critical. In the United States, the Department of Agriculture (USDA) shoulders the responsibility for managing these changes across various facets of the sector, including processing and distribution. Subsequently, the Food Safety and Inspection Services (FSIS) — the USDA's public health and regulatory agency — ensures that meat, poultry, processed eggs, and other CPGs are safe and labeled appropriately.
And this mandate guides everything the agency does. From implementing and enforcing regulations to using data and science to inform its decisions, it's constantly improving operations.
So, to safeguard the continued security of our nation's meat and processed egg products, FSIS recently released its 2023-2026 Strategic Plan.
This plan builds on the progress FSIS has made over the past five years by leveraging cutting-edge scientific techniques and data analysis. Consequently, the new strategic plan continues to prioritize advanced methods to protect consumers from foodborne diseases associated with FSIS-regulated products.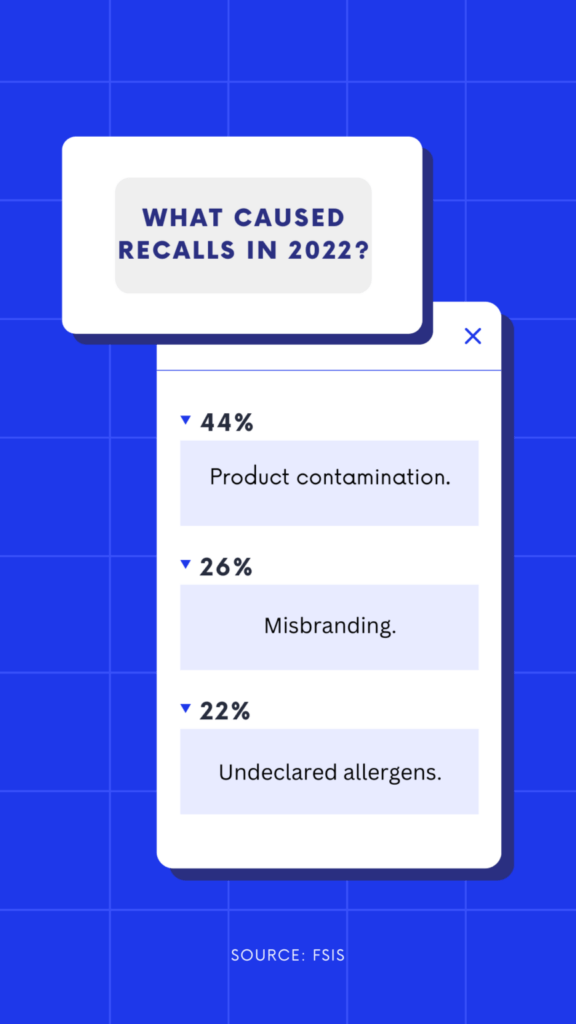 As a result, FSIS targets three strategic goals:
Prevent foodborne illnesses and protect public health
To start, FSIS focuses on improving the agency's core mission: protecting public health. As a result, the regulatory agency plans to implement several tactics that include:
Mitigating Salmonella-related illnesses in poultry. According to the Centers for Disease Control and Prevention (CDC), roughly 1.35 million infections and 26,500 hospitalizations occur annually. Of these, 23% are Salmonella infections linked to poultry consumption.
Therefore, the FSIS wants to accelerate a proposed regulatory framework in its new approach to curb poultry-linked Salmonella infections. To do that, the food safety agency has laid out three regulations:
All incoming flocks must be tested for Salmonella before entering a processing facility.
Improving monitoring controls and quality checks within poultry processing facilities and increasing FSIS oversight.
Implementing a legally binding and enforceable standard for the final product.
The agency drafted the strategy to slash Salmonella illnesses by 25% as set by Healthy People 2030. FSIS scheduled the final implementation for 2024.
Improve compliance with food safety laws and regulations. FSIS aims to strengthen compliance with food safety statutes and regulations by:
Assessing food safety protocols regularly to understand how facilities manage process control and leverage Public Health Information System (PHIS) data to identify noncompliance patterns.
Improving collaboration with other countries through outreach programs, technical assistance, and information sharing.
Ensuring that all imported products meet the safety standards of domestic products to reduce foodborne illnesses, particularly for Salmonella infections tied to poultry.
Enhance access to food safety resources. FSIS will also improve food safety in existing facilities by applying a risk-based approach to allocate resources and tools for monitoring, investigation, and enforcement activities to target the most vulnerable areas.
Improving outbreak response. Through its 2023-2026 Strategic Plan, FSIS focuses on enhancing response to disease outbreaks by streamlining information sharing with other health partners and stakeholders during inquiries to confirm the quick removal of contaminated products from consumer markets.
Sustainable food defense strategies. Additionally, FSIS strives to advance sustainable food defense strategies by pushing the adoption and implementation of food defense practices. The agency also drafts response plans for acts of intentional food contamination.
Creating public awareness. The masses play a crucial role in public health and safety. Therefore, the FSIS plans to make the public aware of product recalls, foodborne illness outbreaks, and expand consumer knowledge of proper food handling practices. Consequently, the agency implements proactive strategies based on behavioral science research to identify the most effective ways to change public behavior.
Transform inspection strategies, policies, and scientific approaches to improve public health
The second strategic goal focuses on the agency's continued improvement of how it conducts food safety activities. As a result, the agency works to bolster food security with new approaches, technologies, and tools at every level of the agency.
To that end, FSIS has identified the following objectives as part of this goal:
Accelerating and adopting innovative regulatory policies and inspection procedures.
Foster the adoption of cutting-edge scientific methods.
Enhance the integrity, availability, and utility of data.
Improve data analysis and evaluation.
Optimizing sampling program designs for better decision-making.
Achieve operational excellence
Finally, the third goal, "Achieve Operational Excellence," recognizes that a strong foundation in FSIS' internal functions and operations is required to achieve all its goals. The desired outcome of the third goal is to maintain, improve, and sustain an adaptable, high-performance, and engaged workforce and maximize service delivery.
The core objectives that FSIS identified under this goal include:
Recruit a more qualified workforce and increase employee retention in mission-critical roles.
Provide more opportunities for employee training and professional growth.
Offer equal opportunities, civil rights, equity, diversity, inclusion, and accessibility in the workplace.
Strengthen the efficiency and effectiveness of critical business procedures.
Enhance customer service and satisfaction.
Modernize the agency's business infrastructure and information technology.
Finally, FSIS will execute its 2023-2026 Strategic Plan by employing its systems for measuring and managing performance, which includes monitoring and reporting mechanisms supported by the agency's enterprise governance process. FSIS will frequently monitor the plan's progress, confirm that it achieves its strategic goals, and promptly adjust specific critical action plans and strategies whenever necessary.
TraceGains remains committed to revolutionizing CPG supply chain agility. As the world's only networked ingredients marketplace, we help brands achieve business agility. From quality management to product development, we provide data and management solutions to accelerate your business intelligence and automation. Visit us online to request a demo today.