Managing Risk in the Global Supply Chain
With 94% of Fortune 1000 companies still experiencing pandemic-related global supply chain disruptions, the need for effectively managing risk remains critical. In the face of ongoing global supply chain issues, 75% of these same respondents reported negative impacts to their business, according to Accenture. Many brands are concerned that they're not doing enough to mitigate these risks, largely because they're struggling to understand existing and emerging threats. Does your organization need assistance evaluating and managing potential problems?
Assessing challenges and compliance needs
Identifying, managing, and applying risk assessment outcomes had become increasingly complicated. A far-flung global supply chain saddled with non-integrated or non-standardized data management systems, and more than a few bad actors, make it challenging to avoid risk entirely.
Prioritizing risk is essential for effective supply chain and safety management. It's also an integral part of food safety management systems to comply with the Global Food Safety Initiative (GFSI) and the U.S. Food Safety Modernization Act (FSMA). But barriers prevent accurate and complete risk assessments — namely, incomplete risk intelligence, undertrained personnel, and outdated technology.
Considering all factors when managing risk
Supply chain risks hinge on several factors, but mostly:
The composition and origin of sourced material.
The production methods and supplier infrastructure.
Material included in the finished product.
The length and complexity of the supply chain.
Asking the right questions
With the proper line of questions, you should have the basis for determining a material's risk level. Learn more about the essential assessments for this task, as well as how TraceGains can help your company mitigate the impact of supply chain disruptions, in this guide.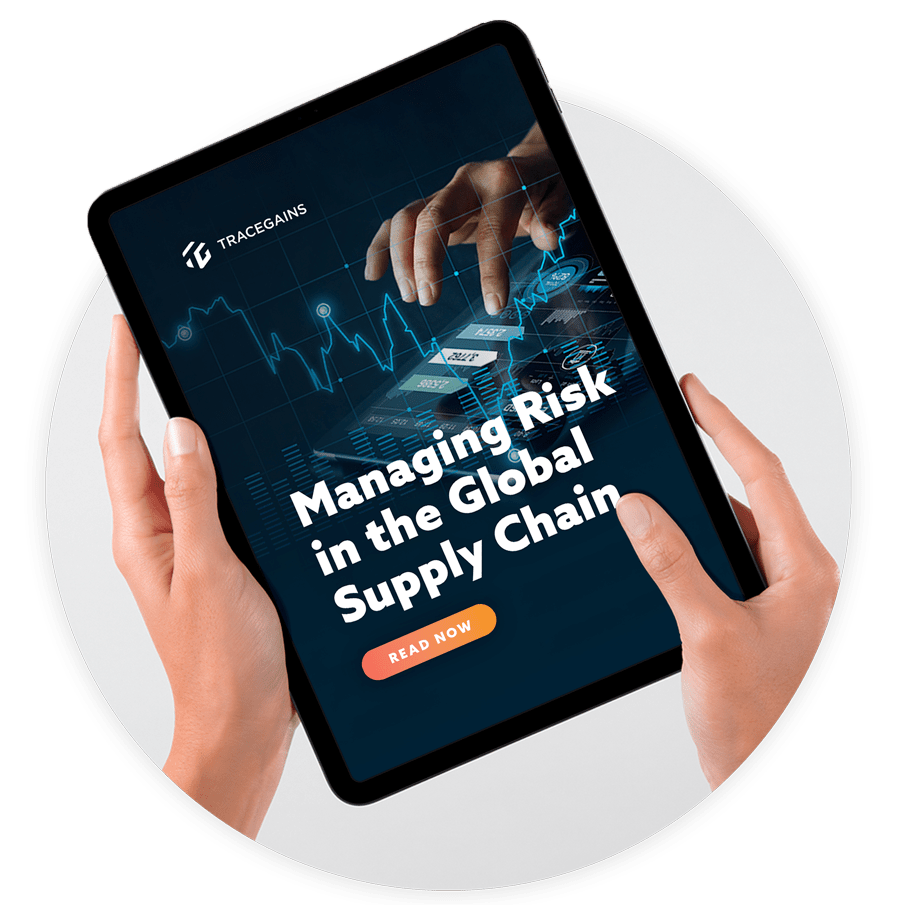 A Sneak Preview: 2 Main Risk Categories
Material/Ingredient Risk vs. Supplier Risk
Two overlapping systems exist to isolate supply chain risk: material (or ingredient) risk and supplier risk.When researching vendors, companies must evaluate both the materials and suppliers for hazards and vulnerabilities. Most manufacturers perform at least one assessment to determine the risk level of sourcing material from any given supplier. They use that to employ the appropriate supplier approval, monitoring, and verification activities.
These supply chain management tasks are highly interdependent, mandating greater visibility, enhanced supplier relationships, and ongoing supply chain improvements.
The quality of risk assessments and, by extension, the effectiveness of mitigation, monitoring, and verification relies on the right combination of qualified personnel and effective systems to support those efforts. Supply chain management software solutions that include risk assessment functionality tied to compliance and monitoring criteria are invaluable.