It can be tough to figure out the best part of December. Is it the holidays and the time spent with family and friends? Or is it tying a bow on a year we can't wait to put behind us? Or is the boundless hope a new year promises? It's like the start of a new Premier League season, where no one's taken the pitch yet, and you can still believe that your club can go all the way. With a tight grip on that hope, we look toward 2023 and UK market. And what the new year might have in store for the food and beverage industries.
UK market contraction?
Let's get the bad news out of the way. The Make UK/BDO Q4 Manufacturing Outlook expects the food and drink sector – the largest manufacturing subset in the UK market – to shrink 1.5% in 2023. While that's obviously not ideal, it's less than half of the expected 3.2% contraction the survey predicts for manufacturing overall.
"Manufacturing input prices are growing rapidly, so it is little wonder UK manufacturers are having to pass the costs onto their customers in order to remain viable," BDO National Head of Manufacturing Richard Austin explained. "Without the right government support and reassurance, manufacturing businesses will be inclined to retain cash to keep the doors open, rather than invest cash in future growth and competitiveness of the sector. There is little clarity on how the new government plan to build the right longer-term environment in which the sector can effectively plan."
Sustainability concerns persist
While sustainability remains a priority in the UK market, rising costs present a challenge. As a result, 2023 promises mixed signals:
Zero-waste programs will remain popular with retailers. Multiple companies have already "disposed" of disposable straws, plastic water bottles, and single-use coffee cups.
Food waste will take centre stage. According to Epicor, "The UK wastes more than 10 million tonnes of food each year. 20% of that number — about £1.4 billion worth — comes from food manufacturing. People throw out food because it's not eaten in time. Or because they misunderstand the expiration dates and toss things that are still safe."
Manufacturers have second thoughts. Global packaging leader Tetra Pak released new research that revealed more than 90% of UK and Ireland "food and beverage managers, directors and business owners admit the current socio-economic climate means sustainability is no longer a priority," according to Circular, an industry trade publication. As a result, Tetra Pak predicts that sustainability won't be as high a priority over the next 12-24 months. Instead, the survey respondents suggested higher priorities would include: "supply chain challenges/disruption (40%), rising fuel and operational costs (28%), and necessary high investments in supporting technologies (20%)."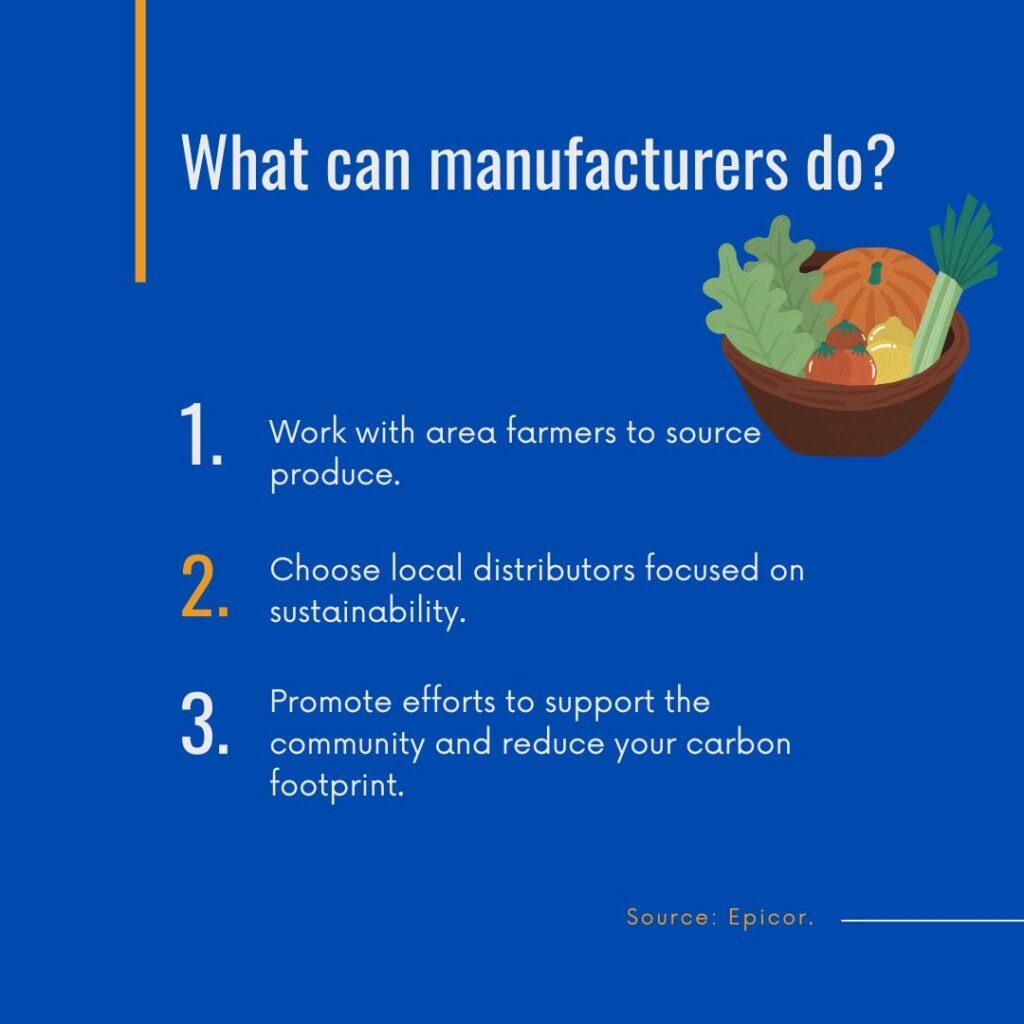 Consumers want global and local
Buying local has moved way beyond hipsters hitting farmers markets on the weekend. Consumers have embraced locally sourced produce as part of the growing clean-label trend. Local produce – and other ingredients – provide transparency and cut back on carbon emissions. But manufacturers have struggled to produce locally sourced finished goods at scale, but 2023 promises some progress. And working with local distributors committed to sustainability can help.
Ironically, UK consumers also crave new, global flavours. According to Epicor, fish and chips aren't as popular today as curry. Egged on by social media, "foods from Korea, Hawaii, Portugal, Japan, Mexico, Cuba, the Philippines, and the Middle East are gaining popularity" in the UK. Manufacturers can take advantage of this trend in 2023 by incorporating international fare into their product lines, which includes connecting with suppliers that offer a variety of global spices and ingredients.
Nutrition trends in the new year
The healthy eating trend that grew out of the pandemic isn't going anywhere. Consumers remain focused on immunity, the gut biome, and heart health. Kerry, the taste and nutrition heavyweight, surveyed more than 10,000 of its consumers worldwide. And they "found that immune support is still the highest health priority for consumers and is a particular focus not only in the US and UK but also across developing markets including Guatemala, Brazil, South Africa, the Philippines and India."
More than 50% of those surveyed want "beverages containing ingredients specific for immune support but want to see science-backed ingredients, citing vitamin blends, omega-3 fatty acids and probiotics as the top ingredients on their radar."
Consumers still want these drinks to taste good but are more worried about nutritional value and ingredient quality.
Functional ingredients, plus form
"A significant opportunity exists in the functional and fortified space, with the conventional line between supplements and beverages blurring. According to our research, a total of 86% of consumers stated they would pay a premium for food and beverages with added functional benefits," Kerry's Global Director of Consumer Research and Insights Soumya Nair said. "To win in this space, manufacturers need to create products that support top concerns such as immune, digestive, cognitive, joint and heart health, and include science-backed functional ingredients to increase credibility."
With experts predicting an overall drop in the beverage market, functional drinks offer a rare opportunity for growth.
TraceGains Gather helps brands that want to stay ahead of trends like these. You can quickly shop for partners to diversify your supplier base with networked collaboration. It's easy to find ingredient substitutes to accommodate clean labels with networked ingredient sourcing. And with networked intelligence, you can monitor your supply chain and respond to threats in real-time.