Food security is one of the cornerstones of a stable society. But, sadly, that's not a given anymore, even in first-world countries. Supply chain disruptions have hit the United Kingdom particularly hard since the pandemic brought the world to a halt in late 2019, and there are few signs of relief. A new report from Coupa Software indicates that the supply chain woes already dragging the country down will persist – and maybe even worsen. As a result, UK residents can expect to suffer through extended food shortages.
What experts expect to see
Coupa asked supply chain leaders for their takes on where they see the supply chain headed in the coming months. Their research found that stakeholders saw several different issues threatening the economy.
Some of the issues those leaders pointed to include:
Geopolitical tensions and uncertainty.
The increased cost of transportation and raw materials.
Basic materials shortages.
After-effects of the pandemic.
Some might reasonably assume that time would mitigate these problems. But it's not happening as quickly as everyone had hoped.
Food shortages hit students hard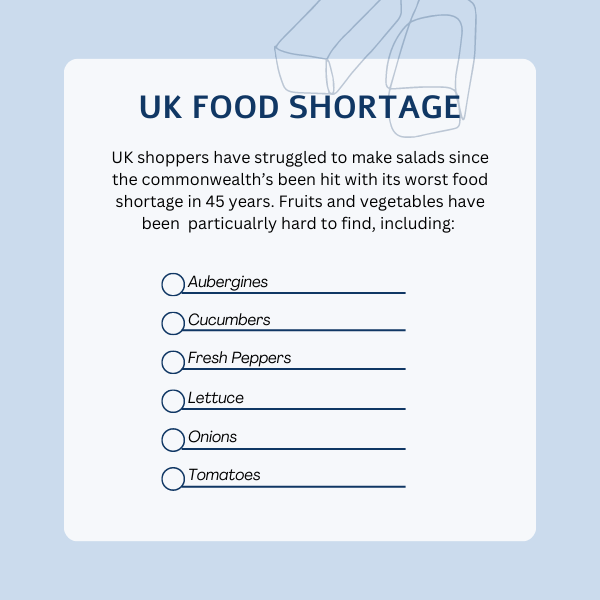 Supply chain issues hit society's most vulnerable the hardest, especially students. The Independent reports that there's grave concern among ministers over the scarcity of nutritionally essential foods for schoolchildren:
"School meal providers say items such as lettuce, tomatoes, and cucumbers are among the items off the menu due to 'extreme shortages' and 'unviable costs.'
"Ministers are so concerned about the problem that they are working with schools to minimize the impact. It comes after consumers reported finding fruit and vegetable aisles stripped bare or low in goods. This situation sparked concerns over Britain's future food security."
Obviously, fruits and vegetables remain essential to a healthy diet. So, the lack of a reasonable solution frustrates officials. School meal provider Caterlink sent an e-mail to the more than 1,300 schools it supplies nationwide to inform them that certain fresh foods wouldn't be available for at least two weeks starting March 1.
Experts blame the lack of availability on "poor planting conditions," another factor fueling concerns about food security throughout the United Kingdom.
Other shortages strangle the industry
Food shortage fears extend beyond schools. Coupa Software also noted in its report that roughly one-third of respondents feared the lack of other critical goods over the next six to 12 months, including fuel and electronics.
Fuel serves as the lifeblood of the modern global economy. To carry the metaphor further, you could argue that certain electronics – and electronic components – work as the central nervous system, and their absence in the marketplace could pose a serious economic threat. Most modern businesses rely on computers and other electronics for everything from managing inventory levels to keeping tabs on their customers' needs.
Despite experts' warnings about the possibility of more shortages ahead, most businesses don't seem prepared. There's either an unwillingness or an inability to adapt to the circumstances. That leaves the entire economy vulnerable. And while it remains unclear how this might play out across the board, we can expect to see ripple effects.
Supply chain stability can overcome food shortages
Companies that want to get ahead of the mounting tidal wave of potential food shortages should do their best to shore up their supply chains as best as possible. That preparation involves the embrace of a multi-pronged response. Ensure you're doing everything you can to stave off the worst of these issues with these three tips:
Anticipate potential shortages. Companies can protect themselves against scarcity by trying to predict where potential shortages might appear. A lot of this has to do with looking at data and analytics related to the specific products and materials that a business uses all the time. Inventory management software is an effective tool for this. Additionally, brands can compare the numbers from earlier years to the latest data to anticipate when – and where – shortages might crop up.
Lock in long-term contracts. Locking in long-term contracts to deliver specific goods can also be helpful. If those are iron-clad contracts, it might be easier to nail down the required supplies. Plus, it might make it easier to take legal action against a supplier that fails to honor its contract.
Diversify your supply chain. Finally, diversifying your existing supply chain strengthens it against future shocks to the system. Many brands have long relied on suppliers that they have trusted for years. However, there's no better time to review all those old contracts and see where you stand. It's also essential to compare the different agreements and see where there might be some wiggle room to work on reducing costs and/or finding an alternative supplier to deliver.
There could be quite a bit of turmoil regarding supply chains and the broader economy. However, companies can take action to ensure they adapt to the conditions. Networked supply chain automation is a huge first step. Automation enables ingredient agility, the secret sauce to better brand agility. You can find most of your suppliers on TraceGains Gather™, where you can quickly connect with them and start collaborating. We can help you put those supply chain challenges behind you. Check out our solution for free and request a demo today.